Semi-Deep Thoughts on Measuring Conversion: Web Analytics Fundamentals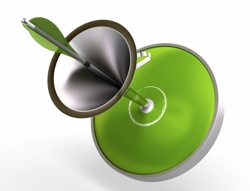 Yesterday, as part of our Web Analytics Fundamentals series, we looked at best practices for tracking conversion. Today, we're going to look into a couple of common (and one not-so-common) conversion questions.
Visits vs. Unique Visitors
Which is better for tracking conversions, visits or unique visitors? My typical answer to this question is, "Oy." You'll find out why in a second. But the simplest answer is: "It doesn't matter. Pick one and stick with it." I tend to like unique visitors over the typical purchase cycle time. Meaning, if your typical purchase cycle is 21 days, use monthly unique visitors; if your purchase cycle is 3 days, use weekly unique visitors. Here's why.
Sounds easy enough. So, why is my typical answer "oy"?
Here's why:
Neither metric tells the whole story. In my experience, unique visitors represent the reality of available opportunity better than visits but visits tend to offer a better leading indicator of purchase intent (due to what I call the "first conversion" effect). At the same time, I've never analyzed any data that shows either accounts for more than 50% of the conversion decision. Little things like price, your offer, site copy, etc. all play a big role, too. You can read the pros and cons of visits vs. unique visitors if you're really curious. But, you're better off just picking one and sticking with it.
Some analytics tools impose limits. I'm a big fan of Google Analytics. I don't dispute it (you can read why I like GA so much here). But many of its reports only provide segments for visits. If you're using GA, you're somewhat forced into using visits by default. Omniture and Webtrends often require expensive add-ons to drill down on some data. If your tool pushes you in a specific direction, don't fight it. You're much better off learning its nuances and focusing on your business than wasting time fighting to get different data out of it. In other words, pick one and stick with it.
It's a religious debate. Those who live for one insist that their way is best and rarely change their minds. Don't waste your time on religious debates. You're much better off if, instead, you—say it with me now—pick one and stick with it. Then use your segments and trends to improve your business.
Life's too short—and business is hard enough—without getting into the weeds of these things too much. I guarantee you either measuring unique visitors or visits can help you grow your business equally effectively. If you've really reached the point where one makes a measurable difference to your business, give me a call. I'd love to hear what you're doing.
Bouce Rate/Retained Visits
The second factor when analyzing conversion rate is the number of people who bounce from your site. Customers who bounce hurt your overall conversion rate and represent truly lost opportunity. Usually, I consider the available opportunity by subtracting converted visits from visits that didn't bounce (i.e., "retained" visits). Few things will improve your conversion rate faster than improving your bounce rate. See this post learn how to calculate your retained visits. And when you're ready to improve, check out this post on how to improve your bounce rate.
Returns and Cancellations
Finally, what about returns and cancellations? Should you factor those into your conversion rate?
I don't think so. While returns and cancellations are, obviously, critically important from a business metrics perspective, I don't believe they tell you very much about your e-commerce activities (though, one could argue that cancelled orders could be a sign that your customers found a alternative after they made the initial purchase from you).
It's no secret I fall into the "precision, not accuracy" camp of web analytics. Conversion rate tells you how well your web site and marketing activities work to drive sales. Introducing cancels and returns into your web data, which tools such as Omniture SiteCatalyst can do, may confuse things more than it helps. As long as you know that "revenue" numbers in your analytics tool represent gross numbers, not net, you're fine.
---
Are you getting enough value out of your small business website? Want to make sure your business makes the most of the local, mobile, social web? thinks helps you understand how to grow your business via the web, every day. Get more than just news. Get understanding. Add thinks to your feed reader today.
And while you're at it, don't forget to follow Tim on Twitter.
Tim Peter & Associates helps companies from startups to the Fortune 500 use the web to reach more customers, more effectively every day. Take a look and see how we can help you.
Technorati Tags: analytics, conversion, conversion rate, conversion rate optimization, E-commerce, e-commerce, ecommerce, Google, google, Google Analytics, how to measure anything, marketing best practices, measurement, metrics, Omniture SiteCatalyst, Webtrends