Should you care about Google SearchWiki?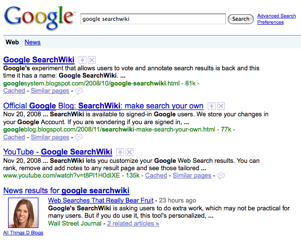 Should you care about Google SearchWiki?
Google is the same as the Web for most consumers, as you can tell by looking at what customers search for. And it's especially true for many small business owners, since your business doesn't have the media budget – and associated customer awareness – large brands do. Customers find you – assuming they can find you – when they search. So, what does it mean to you now that Google is letting customers decide what's in their search results through its SearchWiki offering? Given how some folks see this as the end of SEO, a train wreck, "a mess of arrows and troll comments," should you be worried?
Nope. Not one bit.
I'm not suggesting we should throw a parade in Google's honor over this – not in the least. But there are at least 8 reasons Google SearchWiki is a non-event for most small businesses.
Customers always look for the best result to meet their needs. If you weren't the best result for a given customer, they weren't going to use you anyway.
SearchWiki will qualify customers better and filter out some needless traffic. Seriously. You should expect bounce rates to decline as people who don't need your products visit less often.
Most customers use search for things they haven't searched for before. You'll still appear when customers search for your category – at least the first time they search. Only if you're able to fulfill customers expectations will you get to appear a second time for that customer.
Most businesses rank for many terms. How many terms do you rank for? If you're getting voted down by every searcher for every term you rank for, you probably have a big problem already. SearchWiki will only correct your more fundamental issue.
Your competition is as threatened as you are. Remember, any site that doesn't meet a specific customer's need can get voted down. That affects your competitors, too. And that's as likely to work to your advantage as against it.
SearchWiki doesn't influence paid search. At least not right now. Over time? Who knows? But, will it eliminate people bidding on terms you should rank well for? If so, expect your costs to go down. And that's a Good Thing.
SearchWiki requires a logged-in Google account. How many of your customers have one? Certainly not all of them. And even if they do…
Most people won't use it. If you think about technology adoption curves, it's possible that it will be some time before its adoption goes mainstream.
At the end of the day, I look at SearchWiki as just another type of update to Google's algorithm. Seriously. Google's Senior Vice President for search quality, Udi Manber told Popular Mechanics that Google changed their algorithm over 450 times in 2007 – more than once a day. Those changes – and the potential drop in all searches for a given term – is a much bigger threat to your business.
My advice? Continue working on making sure you rank for terms relevant to your customers that drive business and on optimizing your landing pages to turn those clicks into retained visits and sales. That's the action you want your customer to take. And the one you've got the best ability to influence. So, don't waste another moment worrying about SearchWiki.
Disagree? Think I'm nuts? Let's hear what you think. Tell me about it in the comments.
---
Are you getting enough value out of your small business website? Want to make sure your business makes the most of the mobile, social, local web? thinks helps you understand how to grow your business via the web, every day. Get more than just news. Get understanding. Add thinks to your feed reader today. Or subscribe via email.
And while you're at it, don't forget to follow me on Twitter.
Technorati Tags:
landing page design, landing page optimization, online marketing, page design, social, search, Google, Google SearchWiki, SearchWiki