Drive more sales – online and offline – with a compelling pitch
Drive more sales – online and offline – with a compelling pitch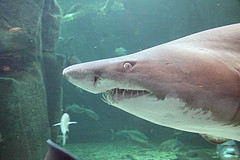 We often look at where to find customers and how to optimize landing pages to drive sales. But what we haven't spent enough time looking at is the one thing in common between how your small business can bring in those customers and how to get them to buy once they arrive. And that's your pitch.
What is a pitch? In Hollywood, the "pitch" is that magical moment where writers and directors explain their movie to a producer (i.e., the guy with the money). The best movie pitch in history – the story goes – was for Ridley Scott's Alien. When asked by producers what the movie was about, Scott famously remarked "It's like Jaws in space." Bam! Whip out your checkbook, Mr. Producer.
Think of your customer as a producer. If you can't pitch your message in a single sentence – "Jaws in space" – you need to rethink what your message is. Great campaigns, in social and more traditional media, as well as the landing pages, copy, and calls-to-action depend on your pitch the same as actors, special effects and editing of a successful film depend on their director's. How many times have you seen – or worse, offered – a promotion, with so many exceptions, restrictions, disclaimers and weasel words that it was easier to ignore than buy? It happens all the time. But if you look at the most successful items, like "Jaws in space," Amazon's free shipping, Southwest Airlines' Rapid Rewards (fly 8 times and get a free trip), they all have a simple, compelling message, one that draws in customers, eager to learn more.
Take a look at your marketing messages. Are they easily understood? Can you explain them in one sentence? If not, then it's time to sharpen your pitch.
---
Are you getting enough value out of your small business website? Want to make sure your business makes the most of the local, mobile, social web? thinks helps you understand how to grow your business via the web, every day. Get more than just news. Get understanding. Add thinks to your feed reader today. Or subscribe via email.
And while you're at it, don't forget to follow me on Twitter.
Image credit: exfrordy via Flickr using Creative Commons Attribution 2.0 Generic. exfordy images available here.
Technorati Tags:
a/b testing, call-to-action, e-marketing, landing page design, landing page optimization, marketing, online marketing, page design, social marketing