Should you increase email frequency?
I subscribe to email lists for many of the top converting sites, just to keep an eye on what they're up to. And I've noticed an increasing trend towards more frequent email communications.
For instance, this is what I've gotten lately from ProFlowers:

And Office Depot:

And Victoria's Secret: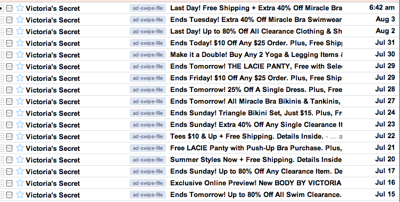 Now apart from the fact that ProFlowers calls me "Timothy" – something I only used to hear from the priests at my high school and my dear Irish mother – this is a heavy increase from a year ago. MediaPost backs up my observation, noting an overall increase in email frequency across the industry.
The questions I have are:
Is this a good thing? Are these retailers seeing a boost in conversion from the increased frequency?
Is this a defensive tactic? Are retailers just trying to steal share from competitors in a down economy?
Are these retailers risking customer attrition due to "spammy" behavior?
Obviously, these are some pretty smart folks. I assume they're testing to see what works best. If you're increasing your frequency, don't forget to do the same.
What do you think? Are you testing frequency of communication? And how's it working out for you? Tell us in the comments.
Hat tip: The more alert among you may notice the "ad-swipe-file" label attached to my Gmail messages. See Linda Bustos' email swipe file post and do the same for your business.
---
Are you getting enough value out of your small business website? Want to make sure your business makes the most of the local, mobile, social web? thinks helps you understand how to grow your business via the web, every day. Get more than just news. Get understanding. Add thinks to your feed reader today.
And while you're at it, don't forget to follow Tim on Twitter.
Technorati Tags:
a/b testing, bryan eisenberg, business, call-to-action, e-marketing, email marketing, goal setting, goals, internet business, internet marketing, luck of the irish, marketing, measurement, metrics, online marketing, solutions, testing