So, is Google+ dead or what?
Lots of folks are making noise about whether Google+ is already dead? They're pointing to the fact that Google's CEO hasn't publicly used the service for a month and that Sergey Brin is only posting odd pictures of giraffes.
So, what about it? Is Google+ dead on arrival?
Um… no.
Google has loads at stake in the social space. Recent Nielsen data shows that U.S. Internet users spend more time on Facebook than anywhere else (see slide 6). They're also sitting on some $39 billion in cash. I can't see Google backing away from Google+ specifically, or social generally, anytime soon.
As we've seen with Buzz and Orkut and (maybe) Google+, Google has a lot to learn about social. Google+ may not be fully alive—though I'd argue it's well-liked by the audience that is using it. But there's no way they're going to give up on the patient yet.
Update (9/21/2011): So, this morning, this is what's on Google's search page: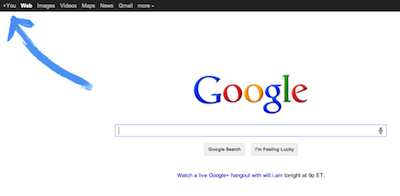 Doesn't look like Google's letting Google+ die to me. What do you think?
---
Are you getting enough value out of your small business website? Want to make sure your business makes the most of thelocal, mobile, social web? thinks helps you understand how to grow your business via the web, every day. Get more than just news. Get understanding. Add thinks to your feed reader today.
And while you're at it, don't forget to follow Tim on Twitter.
Tim Peter & Associates helps companies from startups to the Fortune 500 use the web to reach more customers, more effectively every day. Take a look and see how we can help you.
Technorati Tags: F-commerce, Facebook, facebook, Google, Google +1, Google Buzz, Google Plus, Google+, social, social commerce, social marketing, social media, social media predictions, social search, social strategy