There is no such thing as "online marketing"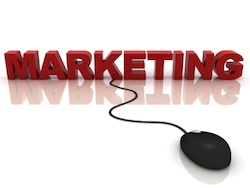 Window stickers for Foursquare, Facebook's new deals section and Yelp? QR codes stuck to walls? Wait-a-minnit. What's going on here? I thought this was online marketing.
Oh. Right. I forgot. Your website, your online marketing, your telephone, every thing you do contributes to your overall marketing. You can measure using any of these tools. You can manage using any of these tools. And you can market using any of these tools.
Don't chase the latest trend or tactic or tool just because it's cool. Do it because it contributes to your overall business, your customers' satisfaction and your bottom line. Otherwise, forget about online marketing. You may as well be doing online gaming.
Are you using window stickers? QR codes? Online-to-offline (or vice versa)? I'd love to hear about it. Drop me a comment below.
---
Are you getting enough value out of your small business website? Want to make sure your business makes the most of the local, mobile, social web? thinks helps you understand how to grow your business via the web, every day. Get more than just news. Get understanding. Add thinks to your feed reader today.
And while you're at it, don't forget to follow Tim on Twitter.
Technorati Tags:
marketing, marketing best practices, measurement, metrics