Think the mobile web is bogus? Think again.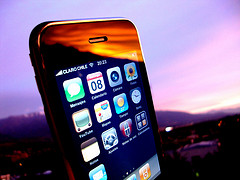 Last week, I took a look at the latest Opera State of the Mobile Web report and commented on how much growth we're seeing in the mobile internet. One thing I forgot to mention is that it looks like there's plenty of room for continued growth.
It's no secret that Apple iPhone users have gone crazy for the mobile web. Well, a recent comScore/Compete study shows Android users look just like iPhone users when it comes to the mobile web. And with Forrester predicting that Android will gain 10% of the smartphone market in 2010, brace for even more mobile web wildness.
Now, it's fair of you to ask why you should care. But, the answer is very simple. Your customers (at the very least the ones with iPhones and Androids) are using the mobile web for search and for social networking. Given the importance of these two channels in marketing your business – both today and in the future – makes mobile increasingly important for your business, too.
What can you do about it? Check out our tips to help customers find you, browse you and reach you. And keep reading our continual coverage of the local, mobile, social web.
---
Are you getting enough value out of your small business website? Want to make sure your business makes the most of the local, mobile, social web? thinks helps you understand how to grow your business via the web, every day. Get more than just news. Get understanding. Add thinks to your feed reader today.
And while you're at it, don't forget to follow Tim on Twitter.
Image credit: Gonzalo Baeza Hernández via Flickr using Attribution 2.0 Generic.
Technorati Tags:
android, business, e-marketing, Google, google, internet business, internet marketing, iphone, marketing, mobile, online marketing, search, search engine marketing, search engine optimization, sem, seo, social, social marketing, social media, social search, social strategy