Want to improve bounce rate? Six questions you must get right.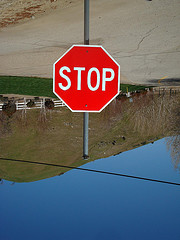 Unlike the local coffee shop or bookstore, customers don't come to your website just to hang out. They're on a mission. And when they can't accomplish their mission right away, they bounce. Sure,it's usually worth it to fix that problem. But how? Here are six questions you must get right to improve your site's bounce rate.
Do you segment your traffic? Getting customers to stick around requires a better understanding of who they are and what they want. The first big step towards doing that is understanding where your customers are coming from:

Search. Customers arriving from search engines. Ideally, you should segment this group further between paid search and natural.
Referred Customers clicking a link from another site. Display advertising – assuming you do that – would also fall into this category. What it tells you? What sites your potential customers come from, whether that site provides good leads for you and what the link they clicked on offers.
Direct navigation. Customers who typed your URL directly. If these folks bounce, you've got to wonder why they thought your URL was the right place to go.
Email. Customers you reach through your own email marketing. As with direct navigation, customers who bounce from here indicate some bigger problem in your messaging.

What is your customer's intent? Why did the customer click your message, type their search, or enter your URL? What question is he or she trying to answer? Does your landing page answer that question? Don't know what your customer's question is? Your site can tell you what those are.
Are you using the right landing page? Does the landing page customers use to enter your site answer the questions they're asking? For your email marketing, paid search and display advertising, test alternate landing pages to see which ones work best. And A/B testing different pages, headlines, copy and calls-to-action is always the right answer.
Do your headlines answer your customer's question? Bryan Eisenberg talks about how sites fail the "scent test." Do your headlines pass that test? Customers most likely to bounce quickly look to the headline to see if you're answering their question. Do you?
Does your copy work? Once you have your customer's attention, you must sell her on why you're the right solution to her question. As James Chartrand notes at CopyBlogger, your copy must answer your customer's questions .
Do you have a clear call-to-action?. OK. So, your customers got to your page. Maybe they know what you're trying to say. What are they supposed to do now? Do your calls-to-action draw customers in? Is there a clear next step that aligns with your customer's goal?
Improving bounce rate – or conversion rate or traffic – isn't a one-time event. It's a continual process of testing, measuring and tweaking to get it right. You may not take the place of the coffee shop (unless, of course, you are a coffee shop). But retaining visits to your site is the first step towards developing a deeper relationship with your customer.
What other questions do you have about visitors to your site? And what has worked for you to answer their questions? Tell us about them in the comments.
---
Are you getting enough value out of your small business website? Want to make sure your business makes the most of the local, mobile, social web? thinks helps you understand how to grow your business via the web, every day. Get more than just news. Get understanding. Add thinks to your feed reader today.
.
And while you're at it, don't forget to follow Tim on Twitter.
Image credit: anarchosyn via Flickr using Creative Commons Attribution Share Alike 2.0 Generic.
Technorati Tags:
a/b testing, bounce rate, call-to-action, e-marketing, email marketing, internet business, internet marketing, landing page design, landing page optimization, marketing, metrics, online marketing, page design, solutions, testing