4 key questions guaranteed to grow your online business
4 key questions guaranteed to grow your online business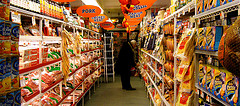 To wit:
Who are the customers coming to your website (or storefront or calling your phone number)? Ian Laurent and Rand Fishkin show you one way to know.
What are your customers trying to do when they arrive?
What can you do to make it easier for them to do that?
How are you measuring it worked?
Lather. Rinse. Repeat.
Did I miss something? Think I'm nuts? Tell us all about it in the comments below.
---
Are you getting enough value out of your small business website? Want to make sure your business makes the most of the local, mobile, social web? thinks helps you understand how to grow your business via the web, every day. Get more than just news. Get understanding. Add thinks to your feed reader today.
.
And while you're at it, don't forget to follow me on Twitter.
Image credit: specialkrb via Flickr using Creative Commons-Attribution 2.0 Generic.
Technorati Tags:
a/b testing, analytics, call-to-action, e-marketing, how to measure anything, internet business, landing page design, landing page optimization, measurement, metrics, page design