What A/B testing, P.F. Chang's, a really good CEO and the hare have in common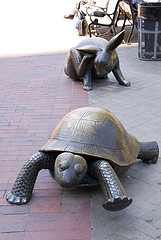 You know A/B testing is always the right answer, right? Why? Well, here's everything you need to know. Whether you call it kaizen, continuous improvement or what-have you, companies like P.F. Chang's recognize significant benefits through incremental improvement. They're not looking for the "big bang" approach. They're continuously growing by continuously improving.
Here's a quick math problem for you: If you increase your sales/conversion/traffic/profit by just 4% monthly, how large an improvement will you see 12 months later? Not 4%. Not even 48%. Nope. You'll see a 60% improvement over the course of 12 months. 5% monthly will drive almost 80% improvement and 6% will double your numbers in a year's time. That's nothing to sneeze at, now is it?
Apparently, it works with people, too. As David Brooks notes in the New York Times,
"The traits that correlated most powerfully with success were attention to detail, persistence, efficiency, analytic thoroughness and the ability to work long hours."
Sure, slow and steady isn't exciting. Or flashy. Or "cool." Who cares? You want to win, don't you? Focus on continuous improvement and steady, solid improvement. The results will come.
Think I'm nuts? Know of places where swinging for the fences is the right approach? Tell us about it in the comments.
---
Are you getting enough value out of your small business website? Want to make sure your business makes the most of the local, mobile, social web? thinks helps you understand how to grow your business via the web, every day. Get more than just news. Get understanding. Add thinks to your feed reader today.
.
And while you're at it, don't forget to follow Tim on Twitter.
Image credit: DennisWright via Flickr using Creative Commons Attribution No Derivative Works 2.0 Generic.
Technorati Tags:
a/b testing, business, call-to-action, e-marketing, goal setting, goals, internet business, internet marketing, landing page design, landing page optimization, marketing, measurement, objectives, online marketing, page design, performance, solutions, strategy, success, testing