What are the best tools to improve online marketing? Here's a hint: Who cares?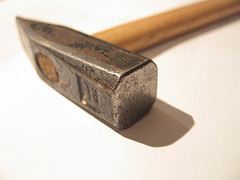 My all-time favorite quote is,
"When all you have is a hammer, everything looks like a nail."
And, let's face it, we all have hammers we love. We're always impressed by the new, sexy, shiny widgets and gadgets and doo-dads our vendors dangle in front of us, like catnip to a playful kitty. I've even pointed out my favorites a time or two. Or three.
But, the thing is, tools don't really matter. What matters is how you apply those tools. I'm fond of saying that there aren't any silver bullets, but regular bullets work just fine when you aim 'em right.
Tools matter only where you can put them to work. Give me a web developer who really gets standards-based development over one with all the latest development software any day. Or show me an analyst who can infer customer intent whether looking at an advanced analytics report or scanning server logs. Think about it, when you watch experts like Avinash Kaushik, analyzing brand campaigns, note that he's not showing how to measure effectiveness with a single tool. He's showing you how you can do it with almost any tool out there.
As Bryan Eisenberg noted recently,
"Tools aren't the issue anymore. You need process. And process is really what I'm going to teach people at the Peer Summit. How are you going to persuade visitors to take action?"
Put your money into your people. Hire really well. Continually question your processes. And train often.
Invest twice as much in people as you do in tools and you're likely to see a far bigger return than on any other investment you'll make. That's the kind of hammer we all could use in our tool kit.
---
Are you getting enough value out of your small business website? Want to make sure your business makes the most of the local, mobile, social web? thinks helps you understand how to grow your business via the web, every day. Get more than just news. Get understanding. Add thinks to your feed reader today.
And while you're at it, don't forget to follow Tim on Twitter.
Image credit: Hammer 2 via Flickr using Attribution 2.0 Generic.
Technorati Tags:
analytics, Avinash Kaushik, bryan eisenberg, continuous improvement, E-commerce, e-commerce, e-marketing, ecommerce, internet marketing, leadership, marketing, marketing best practices, metrics, money saving tips, online marketing, performance, solutions, strategy, tools, training, vision