What page is your home page? (Guide to Small Business Ecommerce Strategy)
I spent part of my day yesterday speaking with web analytics rock star Avinash Kaushik and watching him present at Search Engine Strategies in New York. And during his speech, Avinash made a great point, stating, "You don't have a home page. Each of your customers has a different home page on your site."
Now, what did Avinash mean by that? Simply, that customers frequently enter your site through pages that aren't the home page. Many visitors may never even see the site's home page.
For example, here is the top landing page traffic for this site: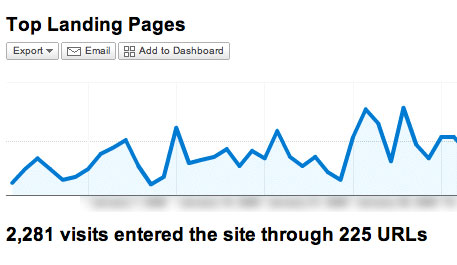 Notice that the almost 2300 visits we've received here came in through 225 different landing pages. The top page was not the home page (it was the very popular "Comparing hosted services for small business websites"). But it only received 11% of visits. The timpeter.com "home page" got only 8.5%, behind this blog (10.8% of entries) and not one, but two different blog posts.
Customers enter your site looking for what matters to them.
Do you have a clear, keyword-rich title for every page on your site, describing what it is about?
Do you repeat that title, or something similar, in an H1 tag to show what the page is about?
Do you have content – copy, images or video – that illustrates the purpose of the page and answers your customers' questions?
Do you have navigation or breadcrumbs giving appropriate context to the page, so you customer knows where they are and what else is available to them?
Do you have a clear call to action, telling customers what to do next?
In other words, do you make each page on your site a welcoming home page?
For more information about how to build effective landing pages, buy Tim Ash's great book "Landing Page Optimzation.". You can also read my review of Tim's book here and read my interview with Avinash Kaushik here.