What your analytics won't tell you.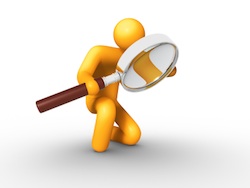 "Statistics are like a bikini. What they reveal is suggestive, but what they conceal is vital." – Aaron Levenstein
Have you ever spent any time watching customers use your website? I don't mean your wife or your friend or your nephew who's built a few websites. I mean actual, honest-to-blog customers.
You see, the thing about your web analytics is they don't always give you the full picture. And remember, I'm a HUGE fan of analytics.
For instance, a few years back, I was involved in the redesign of a major e-commerce site. And we gathered a group of customers together to watch them interact with the site. (You can do something similar inexpensively using a site like UserTesting.com. Steve Krug's book Rocket Surgery Made Easy [my review here] has other great tips). And my team and I sat in frustration and horror as we watched the customers lean forward, one after another, to squint at our product photos and click on them. This didn't happen once. This happened with every, single customer.
Why didn't we know this?
Why? Because our web analytics didn't tell us customers couldn't see the photos. And it didn't tell us customers were clicking.
Why not?
Well, the former is obvious (we didn't have heat mapping at the time), but the second is the interesting one. Our analytics didn't tell us what the customer was doing because the photos weren't clickable. Analytics are designed to tell you how people interact with the parts of your site they can interact with. If you don't let 'em interact, there's nothing for the analytics program to tell you.
And, yes, tools like heat mapping can help you identify where people are putting their focus. But there's still nothing like sitting and watching a customer struggle through your site to really understand what they're going through.
So, grab some real-life, flesh-and-blood customers, try UserTesting.com or sites like Verify and see what your customers have to deal with.
After all, as a great American once said, "You can observe a lot just by watching."
Got a user testing horror story? Learn something your analytics didn't tell you? I'd love to hear about it. Leave a comment below.
---
Are you getting enough value out of your small business website? Want to make sure your business makes the most of the local, mobile, social web? thinks helps you understand how to grow your business via the web, every day. Get more than just news. Get understanding. Add thinks to your feed reader today.
And while you're at it, don't forget to follow Tim on Twitter.
Technorati Tags:
analytics, continuous improvement, conversion rate optimization, E-commerce, e-commerce, ecommerce, Google Analytics, how to measure anything, internet marketing, landing page design, landing page optimization, marketing best practices, measurement, metrics, page design, performance, Rocket Surgery book review, Rocket Surgery Made Easy, Rocket Surgery Made Easy book review, Steve Krug