When should you ignore your metrics?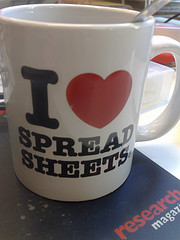 John Wanamaker famously said, "Half my advertising fails, I just don't know which half." Of course, the mantra of digital marketing is its ability to measure everything. So, why did two outstanding digital marketers (and long-time FOT's[*]) recently point out that killing PPC keywords that don't convert might be a bad idea? How is it two respected online marketing and e-commerce commentators came to this conclusion? Weren't they looking at their reports? Couldn't they see they were wasting money? Or is there something else going on here?
GetElastic's Linda Bustos is up first, suggesting "failed" keywords contribute to the sales funnel and may help more than they hurt. GrokDotCom's Jeffrey Eisenberg says that no matter how much we obsess over the data, it's not the keywords that fail to convert, but what we do with those visitors.
At its core, what they're both saying is this doesn't represent a failed strategy, but a failed metric. And they're right.
Driving traffic to your site, particularly traffic at the top of a purchase funnel, may not turn into a sale on the first visit. And, as Linda points out, cookie deletion, phone orders and the "last click" problem all compound the issue. Metrics – to paraphrase the old saying – are like a bikini: what they reveal is suggestive, but what they conceal is vital. Measuring the contribution of your various channels is difficult. But it's not impossible. By following best practices for developing your key performance indicators, testing where possible and segmenting your keywords into appropriate ad groups, you can attribute more successfully. The key takeaway is not to ignore your metrics, but to make them work for you.
Think I'm wrong? Should you always trust your metrics? Or, better yet, have you found ways to track that work for you? Tell us about it in the comments below.
* – What's an FOT? That's a Friend Of Thinks. Drop us a link, comment or email and be one, too.
---
Are you getting enough value out of your small business website? Want to make sure your business makes the most of the local, mobile, social web? thinks helps you understand how to grow your business via the web, every day. Get more than just news. Get understanding. Add thinks to your feed reader today.
.
And while you're at it, don't forget to follow Tim on Twitter.
Image credit: Life in LDN via Flickr using Creative Commons Attribution 2.0 Generic.
Technorati Tags:
a/b testing, analytics, douglas hubbard, douglas hubbard review, e-marketing, how to measure anything, how to measure anything review, internet marketing, marketing, measurement, metrics, online marketing, performance, ppc, ppc marketing, search engine marketing, sem, solutions, testing