When is your bounce rate too high? What's it worth to you to fix it?
When is your bounce rate too high? What's it worth to you to fix it?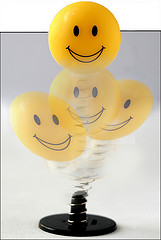 The amazing Avinash Kaushik frequently talks about how important bounce rate is as a metric. But what's "too high" a bounce rate? More important, what's it worth to you to lower that number? The answer varies by site, but here's what you need to think through when looking at your "ideal" rate:
What is the bounce rate per page? For instance, a page with nothing more than your contact information, address or directions likely will have a higher bounce rate than, say, your home page. Fixing the bounce rate on those obvious exit points likely has little value.
What channels bring people to those pages? The cost of finding customers through paid search, natural search, direct navigation and email vary. So will the value of fixing each of those.
How has your bounce rate trended over time? If it has held steady, or fallen by a couple points, then I wouldn't worry about it. But, if your bounce rate has climbed over time, you definitely want to take a look at it.
One way to decide what to do is to assign a dollar value to bounce rate. To do that, let's look at one example site with the following metrics:
| Site Visits/Month | Total Sales/Month | Value/Visit |
| --- | --- | --- |
| 10,000 | $15,000 | $1.50 |
You might think that improving bounce rate by 1% – or 100 visits in this case – would be worth $150. But don't forget to measure the value of your lost prospects.
| Bounce Rate | Lost Prospects | Retained Prospects | Value/Retained Visit |
| --- | --- | --- | --- |
| 46.2% | 4,620 | 5,380 | $2.79 (!!!) |
Due to the high bounce rate, the value of each visitor was actually under-reported by almost half. Put another way, in this example, improving bounce rate by 1% – or 100 visits – is worth $279 per month or a little over $3,300 per year. Lowering it by 5% would gain you almost $1,400 per month.
By contrast, if this same site had a 18% bounce rate, it would "only" gain $183 for every point of bounce saved. But you can see how your numbers would influence the decision. Use this technique on your own site and your numbers will guide you.
Obviously, no matter how important it is, bounce rate isn't the whole story. What web metrics matter to you when making a business decision? Tell us about them in the comments below.
And for more on this topic, read my interview with Avinash Kaushik and check out his outstanding book, "Web Analytics: An Hour a Day."
---
Are you getting enough value out of your small business website? Want to make sure your business makes the most of the local, mobile, social web? thinks helps you understand how to grow your business via the web, every day. Get more than just news. Get understanding. Add thinks to your feed reader today.
.
And while you're at it, don't forget to follow me on Twitter.
Image credit: alancleaver_2000 via Flickr using Creative Commons-Attribution 2.0 Generic.
Technorati Tags:
analytics, business, e-marketing, how to measure anything, internet business, internet marketing, landing page design, landing page optimization, measurement, metrics, online marketing, page design, performance, bounce rate