Why Priceline Believes in the Death of Search Engine Optimization (Travel Tuesday)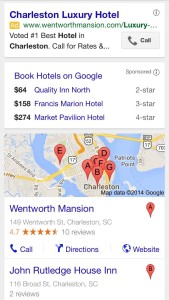 Want to know one cause for the rising cost of guest acquisition? Look no further than the declining prominence and effectiveness of natural search as Google increasingly places paid ads higher on the search results pages. This reduces both the number of natural results per page and your guests' opportunities to see those ads. The problem has become so pronounced that, in a report from Skift's Global Forum, Priceline.com CEO Paul Hennessy announced the death of search engine optimization. Money quote:
"As far as SEO is, my view on that is it's more of a desktop thought because as the devices get smaller and smaller and smaller, the number of choices from an SEO perspective on mobile decline dramatically. And so I believe it is a paid world."
Well, that's a bummer. If you subscribe to Hennessy's worldview, you'd have to expect your paid costs will continue to increase. But you already know that. You're living that every day.
However, this particular cloud really does have a few silver linings. For one thing, this hurts the folks trying to disrupt you as much as it hurts you. And, in some ways, more. For instance, Tnooz says that Airbnb is increasing its host fees as way to pay for Google advertising (a topic we covered a little bit in this week's Hospitality Marketing Link Digest). That's a mixed blessing for hoteliers, as it will drive up the rates Airbnb hosts charge — and will help protect hotel rates in those same markets.
Additionally, OTA's, which by definition should possess lower quality scores than the hotels whose brand terms they sometimes bid on, have to pay higher costs than hotel marketers on a per-click basis. Or, at least they do when you focus on creating high quality content for your hotel's website to show Google you're a better answer to a guest's questions.
Also lost in all of this is the fact that Priceline currently is hiring SEO product managers—and probably would love to see hotels reduce their SEO efforts. I don't know about you, but I'd take Hennessey's comments with a grain—if not a whole chunk—of salt.
Is search growing? It's complicated. Desktop search isn't really growing, while mobile search is. But, as Hennessy accurately points out, fewer opportunities exist for your hotel to appear in mobile search due to the size of the screen and Google's increased use of paid placements in the search results. Add to that the fact that guests often substitute apps in place of "traditional" search, and you can see why this is a mess. Even if its growth has slowed, search remains an important part of traffic and reservations for your hotel's website. And, I can't imagine abandoning search engine optimization or paid search marketing as a positive at this point.
Instead, the real takeaways for your hotel marketing include:
SEO and content marketing remain a cost of doing business—and likely will be so for some time to come
Quality content continues to improve your natural search rankings and drive down your paid media costs by improving your paid search quality scores
Link-building activity—a key component of SEO activities—can help drive referred traffic in addition to its assumed "SEO benefit"
In other words, effectively executing your SEO and content marketing strategies drives business
In fact, the more nuanced—and in my mind accurate—quote in the Skift report comes from Evan Reece, Co-Founder and CEO of Liftopia, right at the very end of the article:
"So perhaps the way we think about SEO now, it is dying a bit. But delivering value to users has been a huge driver of success even within that old world, and brands that focus on that value creation will likely benefit from Google's new world of delivering that value."
As long as you continue to focus on creating high-quality content, that's snackable, sharable, and sharp (something I talked about in my 2016 Trends report a few weeks back), and expand your use social for promotion, you should still expect to receive benefit from search for some time to come.
If you're looking to learn even more about how changing guest behavior shapes hospitality marketing, e-commerce, and distribution, be sure an register to receive a special report I've produced in conjunction with hotel marketing firm Vizergy, "Digital Hotel Marketing in a Multiscreen World." While it's targeted specifically at hotel and resort marketers, the lessons apply to just about any business. You can get your free copy of the report here.
You might also want to take a moment to review the slides from my recent webinar, "Digital Marketing Directions 2016: The Key Trends Driving Your Hotel Marketing Next Year" here:
Finally, you will definitely want to check out some of our past coverage of the mobile, local, social web and how to make it work for your business, including: