Will Google's 12th birthday be its last?
Today is Google's 12th birthday and, to celebrate, they've baked themselves a cake.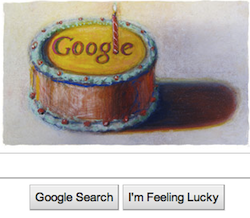 Hip, hip, hooray and all that.
But, the Big G's birthday got me wondering. Is search done? Between the rise of social and apps, there are lots of reasons to think so. But I don't.
Here's why:
"Studies have shown that users do anything between 5 to 6 searches and 9 to 12 site visits prior to converting for products like mobile phones, computers and clothing. [Source: comScore custom analysis- UK Population, 15+]"
I've heard similar numbers for a number of product categories. Search is not just a useful tool. It's also a powerful metaphor for customers.
We spend much of our lives looking for the answer to questions that bug us. Where can I find the best deal on a car? What should I buy my wife for her birthday? Does anyone know any good roofing contractors? And so on. Google is, right now, the best possible solution to the problem. And, yes, it might not be the only one forever. As I mentioned a couple of weeks ago about app discovery:
"And what about the idea that apps fragment content discovery and minimize Google's role? Actually, it's possible Google will suffer. But it's equally likely some entrepreneurial soul will fill the same role among content within apps that Google has performed for the web. Why? For the same reason Google achieved its dominance: because customers are looking for someone to help them find things."
In fact, one of the reasons social gets so much play as a possible replacement for Google is because it allows us to ask our friends and colleagues the questions we've been asking Google. But, that's not what consumers are actually doing. Google recently shared data suggesting 57% of customers start product searches on a search engine versus 5% using Twitter or a social network.
Google was born almost 12 years ago – and has weathered threats to its business before. For that matter, so has the entire search industry. For instance, search engine authority Danny Sullivan once wrote:
"Search engines have been in trouble like this before. Back in late 1996 and early 1997, the situation seemed as dire as it does today."
Sound familiar? Yet Sullivan wrote his piece, "The End of Search Engines?" over 9 years ago, in February, 2001. Search seems to keep hanging on because it works so well. To paraphrase Winston Churchill, it is the worst solution except for all those others that have been tried. Which I guess makes Google the best of the worst. I expect it will continue to be the best for a while.
That's not to say Google couldn't stumble. As it enters its teen years – the tech world equivalent of adulthood – Google has plenty of opportunity to fail. They face stiff competition and increasing legal oversight (Coincidence? I think not). They've damaged their "don't be evil" reputation. But, I wouldn't be surprised if, a dozen years from now, we'll be still be celebrating search engines generally – and Google specifically.
What do you think? Is Google past its prime? Is social going to kill search? Tell us your thoughts in the comments.
---
Are you getting enough value out of your small business website? Want to make sure your business makes the most of the local, mobile, social web? thinks helps you understand how to grow your business via the web, every day. Get more than just news. Get understanding. Add thinks to your feed reader today.
And while you're at it, don't forget to follow Tim on Twitter.
Technorati Tags:
e-commerce, e-marketing, ecommerce, Facebook, Google, google, internet business, internet marketing, search, search engine marketing, search engine optimization, sem, seo, SEO is dead, social, social marketing, social search