You Don't Have 50 Key Performance Indicators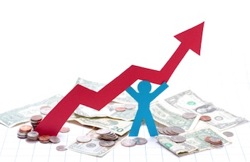 I'd like to take a moment to consider the notion of what exactly a key performance indicator is. Companies often talk about using key performance indicators to measure and manage their business. And, in theory at least, that's a good idea. But many companies fall short in their implementation because they don't properly identify their true, key performance indicators. Oh, sure, they track loads of numbers, review lots of data and produce numerous reports. But do those numbers, data and reports mean anything about the current state and future health of the business?
Sadly, the answer for many companies is "no."
So let's start over by looking at key performance indicators in more detail.
A key performance indicator is, simply, a number that tells you whether you're on the right track to achieve your goals.
That's it.
For instance, a financial services company I worked with tracked "DART's" as their key performance indicator: Daily Average Revenue Trades. The company made most of its money on transaction fees from trades executed. However, not all trades produced revenue for the company due to internal account management, error corrections and the like. So simply counting the number of trades, while interesting — and potentially valuable from an operational standpoint — didn't offer a clear picture of how the business was doing each day. But, subtract the non-revenue trades from the picture, and suddenly you've got a formula for accurately representing how the business was doing.
You can measure the same with any of your marketing activities, regardless of your product or service. What does a sale look like in your business? Is it an actual sale? Is it a lead generated? If you're a non-profit, is it a donor pledge or an additional email address added to your mailing list?
The only problem with sales numbers, of course, is that they represent a trailing indicator. That is, the number doesn't reflect the financial health of the business going forward. It only reflects a snapshot in time of where the business is right now. A better option when it exists is to look for leading indicators, metrics that inform you how the business will look in the future. Some examples include phone calls received, email addresses captured, leads generated, brand searches, etc.
Is social media activity — friends, fans and followers — a leading indicator? Well, the jury's still out. But I'm going to make the case for yes. Here's why:
Any consumer who takes the time to share something about herself with you — whether through Facebook, Twitter, Foursquare, LinkedIn, Google+ or whatever the social media flavor of the month is — has indicated interest beyond the average consumer. That is, all the ones who didn't choose to connect with you. And years of research into market effectiveness shows that consumers exposed to repeated messages transact at higher rates and, often, higher dollar values.
Of course, the point here is to determine the metrics in your business that actually show how business is doing and manage to those (you can check out our guide to Web Analytics Fundamentals for help in how to measure them). To unlock a door you need a key. And you can't unlock your business's true potential if you're not looking at key performance indicators.
---
Are you getting enough value out of your small business website? Want to make sure your business makes the most of the local, mobile, social web? thinks helps you understand how to grow your business via the web, every day. Get more than just news. Get understanding. Add thinks to your feed reader today.
And while you're at it, don't forget to follow Tim on Twitter.
Tim Peter & Associates helps companies from startups to the Fortune 500 use the web to reach more customers, more effectively every day. Take a look and see how we can help you.
Technorati Tags: analytics, measurement, metrics, strategy