6 Things the Baseball Playoffs Can Teach You About Online Marketing | Biznology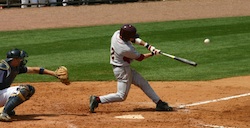 Baseball is a beautiful game. There are few things I enjoy more than sitting in the sun on a summer's afternoon, surrounded by friends or family, luxuriating in the leisurely pace of the game and the brilliance of dazzling play. That, plus there's beer.
However, this child's game is also played by millionaires to entertain millions and enrich billionaires. By a lot. It's more than just a game. And I'm not waxing poetic. It's serious business. And a very, very successful one at that.
So, what can you learn about marketing from this business? Well, a lot. Which is the topic of my latest post for Mike Moran's Biznology blog, "6 Things the Baseball Playoffs Can Teach You About Online Marketing." Here's an excerpt:
"#3. The right measures. If you think online marketers like analysis, you've never met a baseball fan. Those dudes count everything. But they all do it with an eye to figuring out what wins games (or at least arguments at their local watering hole). As the book and Brad Pitt film Moneyball point out, and as I'm fond of reminding people, "People who run ball clubs, they think in terms of buying players. Your goal shouldn't be to buy players, your goal should be to buy wins." Similarly, you shouldn't think in terms of traffic. You should think in terms of qualified traffic. You shouldn't think about page views. You should think about bounce rate. You shouldn't think about clicks. You should think about conversion rate. And micro-conversions (the steps that lead to conversions). And customer segments. You can't manage what you can't measure. And when you can't manage, you can't win."
So, while you're lounging in front of the tube enjoying the rest of the World Series this weekend (with a beer), you can read the whole post here.
---
Are you getting enough value out of your small business website? Want to make sure your business makes the most of the local, mobile, social web? thinks helps you understand how to grow your business via the web, every day. Get more than just news. Get understanding. Add thinks to your feed reader today.
And while you're at it, don't forget to follow Tim on Twitter.
Tim Peter & Associates helps companies from startups to the Fortune 500 use the web to reach more customers, more effectively every day. Take a look and see how we can help you.
Technorati Tags: analytics, marketing, marketing best practices, measurement, metrics, strategy, success