You don't want to grow your traffic. Not yet, anyway.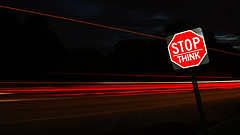 I saw a friend of mine recently and he kept talking about his company's goal to increase traffic this year, from roughly 100,000 monthly uniques to about 125,000 unique visitors, while maintaining a consistent conversion rate. His company is betting the economy is going to turn around later this year and plans to increase search marketing to steal share from competitors.
It sounded like a decent strategy to me, but then I happened to ask him, "What's your bounce rate?"
He had the decency to look sheepish as he answered, "44%."
If I were the type to say, "OMG," this would have been the moment.
Now, 44% may not sound that high to you. And, for certain types of sites (blogs come to mind), it might not be that bad. But if you're paying for your traffic? Yikes.
Traffic, after all, is a funny thing. It's a simple number to get your head around. And everyone knows bigger is better, right? Plus you can talk about it at business lunches and cocktail parties to impress your friends and intimidate your competitors. But the thing that makes it funny is that you don't deposit traffic at the end of each month. You deposit profits. And if a healthy chunk of your traffic – more than 2 out of every 5 folks, in my friend's case – leaves your site without even bothering to look around, you don't get many opportunities to turn that traffic into profits.
By lowering his site's bounce rate to 30%, my friend would achieve the same business goal and wouldn't have to increase his PPC budget to do it. Sure, he'd have to pay some money to fix the problems causing the brutal bounce rate. But the benefits of an improved bounce rate continue once the funding stops. And, if he grows traffic after fixing bounce rate, then he gets even greater benefit out of the marketing spend.
I've taken a look at this topic in the past and recommend these 6 steps to improving bounce rate.
If your objective is to grow traffic, ask yourself why. Sure, some cases exist where focusing on traffic instead of bounce rate makes sense, but you've got to do the following items at the same time:
Keep bounce rate down. Seriously. I'm not kidding about this one.
Improve meaningful business metrics (sales, average order value, repeat business, CPM, etc.) along with it.
Maintain – or lower – your cost of acquisition. If your cost of acquisition is going up faster than your traffic levels, ask yourself whether you are getting enough incremental sales to cover that cost.
One of the best pieces of advice I ever got was this:
"When you find yourself in a hole, the first thing to do is stop digging."
Bounce rate is sometimes a deep hole to dig out of. But adding traffic to a high bounce rate site – especially if you're paying for that traffic – is like using a backhoe instead of a shovel to keep on digging. Stop digging. And start profiting instead.
---
Are you getting enough value out of your small business website? Want to make sure your business makes the most of the local, mobile, social web? thinks helps you understand how to grow your business via the web, every day. Get more than just news. Get understanding. Add thinks to your feed reader today.
And while you're at it, don't forget to follow Tim on Twitter.
Image credit: DWRose via Flickr using Attribution 2.0 Generic.
Technorati Tags:
bounce rate, call-to-action, continuous improvement, conversion, conversion rate, E-commerce, e-commerce, e-marketing, ecommerce, internet business, internet marketing, landing page design, landing page optimization, marketing, marketing best practices, online marketing, page design, performance, ppc, ppc marketing, search engine marketing, sem