You're not welcome here. And other nice things to say.
Anyone who knows me knows I'm a big sports fan. I'm also a big Mac fan. But I mainly use Windows at work. So imagine my surprise this past Friday afternoon when I fired up Firefox on my office computer to check on Tiger Woods in the Buick Open and got this message: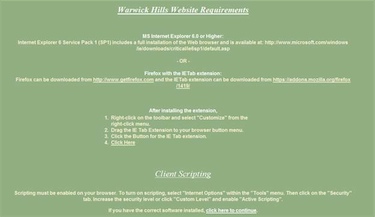 "Website Requirements"?!? Really?!? Worse, no matter what I did – short of switching to Internet Explorer – would get me past this screen. Forget "requirements." Why not just say, "Sorry. We don't think highly enough of you and the choices you make to want your business. Ever. Now go away and stop bothering us"?
OK, you might think it's not that bad. After all, it's not like they're completely invisible. But I'm not sure there's any difference. Anytime you tell your customers they can't communicate with you – the way your customer chooses – you've likely lost a customer.
In case you think I'm overreacting, consider this: Firefox now has as much as 30% of the market. Some sites see even larger numbers. For instance, 35% of thinks readers use Firefox/Windows, almost tied with IE/Windows. Other sites I know see "only" 15% of their traffic from Firefox/Windows. But, even at that level, would you want to tell 1 out of every 6 customers, "Sorry. We don't think highly enough of you…?"
I didn't think so.
Worse, look what Google seems to think the site is about:

Doesn't exactly inspire confidence, does it? How many customers on seeing that description will spend the next fifteen minutes worrying whether they have the "right" browser – assuming they know what a browser is – instead of actually visiting Warwick Hills' site?
I certainly don't mean to pick on Warwick Hills alone. Sadly, too many sites still suffer from these same issues. But if you want to raise your profile online, you've got to accept how your customers want to talk to you and do what's necessary to make your site work for all.
What do you think? Did Warwick Hills drop the ball here? Or am I overreacting? Tell us what you think in the comments.
(Hat tip: Thanks to Brian Barr for pointing out the Warwick Hills site to me).
---
Are you getting enough value out of your small business website? Want to make sure your business makes the most of the local, mobile, social web? thinks helps you understand how to grow your business via the web, every day. Get more than just news. Get understanding. Add thinks to your feed reader today.
And while you're at it, don't forget to follow Tim on Twitter.
Technorati Tags:
Google, google, internet business, internet marketing, landing page design, landing page optimization, marketing, online marketing, page design, search, search engine marketing, search engine optimization, sem, seo, solutions, strategy