3 Mobile Milestones for Travel Marketing (Travel Tuesday)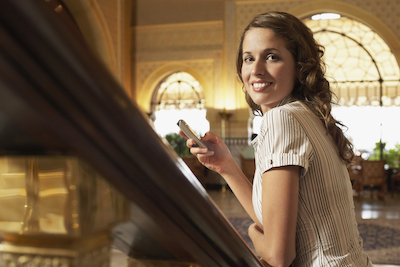 Over the last week, several fascinating stories highlighted the state of mobile activity among travelers and hotel guests that signal 3 mobile milestones for travel marketing. Check this out.
eMarketer uncovers that 40% of all travel research occurs on mobile devices and tablets. While the report emphasizes that 60% of browsing and research activities still happens on PC's, the data shows some 26% occurs on smartphones, with tablets kicking in another 13% of this critical activity. Equally interesting? The importance of mobile to your guests' sharing activities:
"…51% of travel content social shares by US internet users took place through a smartphone or tablet. Smartphones were particularly important for sharing, accounting for 41% of the total pie."
To put that plainly: the folks most likely to share your hotel's content are those 1 in 4 already using their smartphones to research. You may as well add that to the 4 signs that hotel marketing's future is mobile.
Next up, HotelMarketing.com looks at guests using mobile for hotel check-in and as their room keys:
"…according to hetras' managing director Philip von Ditfurth, 'the best technology is the kind that guests don't even notice is there and just does its job.' However, von Ditfurth also believes that mobile hotel check-in and room entry systems are generally going to move more and more center stage in 2015."
And, finally, AdAge examines the partnership between American Express and Uber:
"American Express' new partnership with Uber, for instance, represents a huge milestone for mobile commerce. It's powerful and yet so simple. Under the program, participants pay with AmEx when they ride Uber, earn two times the rewards points and can use those points to pay for future Uber rides.

That's it. If you're the customer, all you need to do is what you're already doing — riding Uber across town and loving it. You get "paid" with loyalty points when you do."
So, let's see. That's guests using mobile to research, share information, check-in, unlock the door, and collect their loyalty rewards. Seems like a pretty complete purchase path to me. How about you?
Somewhat troubling, the Amex/Uber deal offers a blueprint for how OTA's could bypass hotels' own loyalty programs. An OTA could partner with a credit card company to reward a guest for booking via the OTA's mobile channel and paying with a given credit card (or mobile wallet). Priceline already has a relationship with ApplePay that could, in theory, underpin that very operation today.
Quite simply, mobile now represents the centerpiece of your guests' everyday life. Some folks—I'm looking at you, Priceline, TripAdvisor, Google—understand that and are using that to their advantage. New entrants we haven't even thought about yet will likely do the same.
The real question becomes, what are you doing to help your guests and to make sure your hotel is also represented at the centerpiece of their lives, too?
If you'd like to learn more about these topics, check out this list of The Top 14 Hotel Marketing Posts of 2014 .
Interested in learning even more about the future of hospitality e-commerce and marketing via the social, local, mobile web? You should register to receive a special report I've produced in conjunction with hotel marketing firm Vizergy, "Digital Hotel Marketing in a Multiscreen World." Developed specifically for hotel and resort marketers, the lessons can help your business adapt to the changing guest environment. You can get your free copy of the report here.
And take a moment to review the slides from my recent webinar, "Digital Marketing Directions 2015: Three Key Trends Driving Your Hotel Marketing Next Year" here:
Finally, you might also enjoy some of our past coverage of the social, local, mobile web and what it means for your business, including: