3 Reasons Why Blogging Still Works for Marketing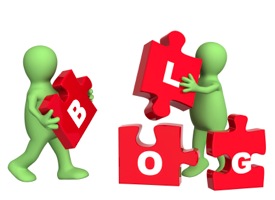 It's no secret I've long been a fan of blogging for business. And, for the most part, I still am [*].
But in prep for announcing this year's Blogging All-Star Lineup (you can see last year's list here), I thought I'd give you three reasons why blogging still makes sense for your business:
Your customers have questions that need answering. Customers, regardless of what they're looking for, continue to begin their journey with search. And those that ask their friends (either IRL folks, or those they know only through social networks), typically rely on well-informed individuals. Guess where those well-informed folks get their information.
You have answers for those questions. I'm sure you do. You don't have to be perfect. You don't have to be world-class (though, it helps). What you do have to do is a.) know more than your customers do and, b.) don't overstate what you do know. A big part of your brand story is based on what's true about you. Your customers are smart. They'll see through BS. Just tell the truth about where you're able to help and the people who need that help will find you.
You want to rank well in search engines when people ask those questions. Not much to say about this one.
Blogging isn't a panacea. It isn't a silver bullet. It isn't the Holy Grail. But in an era when many happily flit from technique to technique in hopes of finding a panacea/silver bullet/Holy Grail, it's amazing how effective a well-structured blog that focuses on answering your customers' needs works for many, many businesses.
Now, check back tomorrow when I announce this year's Marketing and E-commerce Blogging All-Stars, the folks who share what they know to help your business grow.
Interested in learning more about e-commerce and digital marketing? Register to receive a free copy of my new special report, "Digital Hotel Marketing in a Multiscreen World," produced in conjunction with Vizergy, here. While it's targeted to the hospitality industry specifically, most of the lessons apply across verticals. And, if that's not enough, you might also enjoy some of our past coverage of strategy, digital marketing, and e-commerce, including:
[*] – Of course exceptions exist. But, for many businesses, I think you should probably blog for your business. (I'm open to hearing about edge cases; let me know your reasons against in the comments).