4 Steps to Create Great Content For Your Business Blog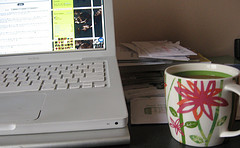 4 Steps to Create Great Content for Your Business Blog
Are you ready to talk with your customers? Are you ready to engage in dialogue? Yes? Good. Then you're ready to start creating content for your business's blog.
By now you've gotten the Basics in place and Listed your Goals (remember… B.L.O.G. to blog). Now you're ready to Originate Content.
Just keep in mind the 4 C's to great blog content:
Customers
Clarity
Consistency
Keywords
(OK. So "keywords" begins with a "K," not a "C," but, c'mon. C3K is unwieldy. I don't even want to think about what the alternatives look like. Seriously.)
So, how do you use each of these 4 C's – fine, fine, have it your way – steps?
Customer: Write for one person. Blogging – despite its marketing value – isn't advertising. You're not trying to talk to "your audience" – for one thing, new blogs usually don't have an audience. You're talking to a reader. A friend. A customer. Most of my blog posts start out as voice mails I leave myself. It's just one side of a conversation. (Ideally, comments on your blog will create the other side, but don't worry about those for now). Imagine a person – the person – you want to have a dialogue with and write your posts to that person. If you can write emails, you can write blog posts.
Clarity: Write what you know. You do want people to read your blog, right? Then focus on what you know. Your first post doesn't have to be brilliant (odds are it won't be; that's OK). Mack Collier has great advice on how to write your first post, with a focus on:
Who you are
Why you are blogging
What you will be blogging about
How your readers can leave feedback
After that, talk about what matters to you, what matters to your business and what matters to your reader (note: that's reader, not readers; remember, write for one person). Did you have a conversation with someone at work about why you're taking a specific action? Write about it. Did you read something in the paper that will help your customers save money? Write about that. And so on.
Another tip: Brian Clark at CopyBlogger suggests you should write your title first. He's absolutely right. But Brian leaves out two reasons you must do this:
Clarity. If you can't sum up what you mean to say in just a single sentence, you're not ready to say it.
Keywords. Your title should own its keywords. So unless you know what you're trying to say and have got the words to say it, don't write it.
Consistency: Write regularly. This is not the same as writing often – even once a week is OK – as long as you do it regularly. If you can only post on Wednesday afternoons, do it every Wednesday.
Also, build a buffer for yourself. One of the things I have learned – and which this series has amply demonstrated – is the need for a buffer. The best way to ensure you have regular content on your site is to start slow. Write 3 or 4 items before you post your first. See how long you can keep up a consistent pace before you start posting to ensure you always have a few items in your queue. That way, if you miss a day of writing, you still have fresh content to post at your regular time.
Need more help? We've put together a template for a blogging content calendar in Excel for you, to keep track of what you're planning to talk about and when.
Keywords: Write words that work. Your blog should provide two key marketing advantages: a clear dialogue with your customers and lots of keyword-rich copy. The first depends on your ability to write for one person, about what you know, regularly. The second depends on you consciously using keywords that matter in each of your posts. Back when we looked at setting goals for your blog, we talked about ensuring posts used appropriate keywords in titles and message to grow search engine traffic. It's that simple. Like the folks at MarketingSherpa say, before you write a blog, make a keyword list. Our blogging content calendar has a space for the keywords you'll use in each post. So do that, OK?
Since 2006, I've written more than 500 posts here on thinks. Another 170 over at Travelstuff. 95 on my original blog (also called "THINKS"), dating to December of 2004(!) The odd guest post for friends. Over 3,000 "tweets" on Twitter. And I'm still learning. Don't feel like you have to be great at it right away. Creating content is the fun part of having a business blog. Don't worry if no one reads it – because they won't. At least not at first (though we'll look at how to improve that in more detail in the next post in this series). David Weinberger is supposed to have said, "In the blogosphere, everyone's famous for 15 people." Start with that.
Just stay focused. Write for one reader. Write what you know. Write regularly. And write it (keyword) rich. Your 15 people should be along soon.
And don't forget, if you liked this post, you can read the entire small business blogging series here.
---
Are you getting enough value out of your small business website? Want to make sure your business makes the most of the mobile, social, local web? thinks helps you understand how to grow your business via the web, every day. Get more than just news. Get understanding. Add thinks to your feed reader today. Or subscribe via email.
And while you're at it, don't forget to follow me on Twitter.
Photo credit: nanirolls via Flickr using Creative Commons-Share Alike 2.0 Generic.
Technorati Tags:
blogging, blogs, marketing, online marketing, social marketing, social media, business blogging