9 Superb Social and Mobile E-Commerce Missives: E-commerce Link Digest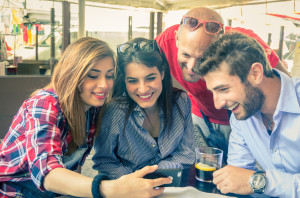 Happy Friday, Big Thinkers! Another week in the rearview and another opportunity ahead to rest up and get yourself ready for the week ahead. While you're taking some time to relax and recharge, you might want to review these 9 superb social and mobile e-commerce missives and be sure you're fully set for some big wins next week. Enjoy!
Hope you have a great weekend, Big Thinkers, and a fantastic week to come. If you enjoyed these 9 superb social and mobile e-commerce missives, don't miss this "Baker's Dozen of the Best Mobile, E-Commerce, and Digital Marketing Writings This Week," these "10 Hugely Important Digital, Mobile, and E-Commerce Observations from the Past Week", the "8 Must-Read Posts Connecting Content, Search and Mobile Commerce", our monthly best of round-up "10 Can't Miss Mobile Commerce and Marketing Columns: The Top Posts from February 2015" or the rest of our E-commerce Link Digest series.
And if you want to learn even more about how customers changing behavior shapes e-commerce and marketing, be sure an register to receive a special report I've produced in conjunction with hotel marketing firm Vizergy, "Digital Hotel Marketing in a Multiscreen World." While it's targeted specifically at hotel and resort marketers, the lessons apply to just about any business. You can get your free copy of the report here.
You can also check out these slides and video from my recent webinar, "Digital Marketing Directions: Three Key Trends Driving Your Marketing Next Year":
And, finally, you might want to take a look at some of our past coverage of the e-commerce, mobile commerce, and digital marketing overall, including: