A Social Commerce Best Practice Worth Noting
MacRumors has an interesting piece noting how Apple is testing social links on some of its product pages. Amazon has done something similar for some time: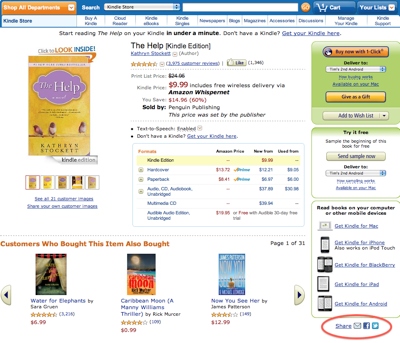 While social commerce continues to develop, it seems like letting your customers tell their friends, fans and followers about your products is becoming something of a best practice. Your customers may be the best advocate for your product you could ever ask for. And, given social's importance in building your business, If they're willing to, why not let them?
---
Are you getting enough value out of your small business website? Want to make sure your business makes the most of the local, mobile, social web? thinks helps you understand how to grow your business via the web, every day. Get more than just news. Get understanding. Add thinks to your feed reader today.
And while you're at it, don't forget to follow Tim on Twitter.
Tim Peter & Associates helps companies from startups to the Fortune 500 use the web to reach more customers, more effectively every day. Take a look and see how we can help you.
Technorati Tags:
call-to-action, conversion rate, conversion rate optimization, E-commerce, e-commerce, E-commerce strategy, e-marketing, ecommerce, F-commerce, facebook, landing page design, landing page optimization, social, social commerce, social marketing, social media, social search, social strategy