Can you find new business using Twitter?
Still up in the air about tools like Twitter? Not sure if they're right for your business? Sure, I've been a big fan for some time. But social media guru Scott Monty and I both learned a fair bit more about using Twitter as a sales and marketing tool last week. Scott Monty tells this story about using Twitter to find a hotel last week. My company helped him find the hotel. Now, I didn't originally follow Scott on Twitter to sell him – or anyone else – hotel rooms. He didn't follow me on Twitter to buy hotel rooms. In fact, he didn't follow LuxRes – who got him the hotel – at the time he sent out his call for help: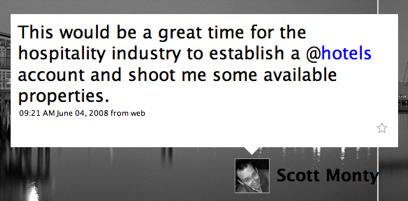 Scott simply reached out to his network and found a number of folks willing to help him. Notice the number of people Scott thanks in his post.
And that's why we use Twitter. Because it's a great way to learn from each other and from the community at large. It's a fantastic way to make new connections and deepen the relationship with old ones. And, every so often, someone will give you inspiration for ways to grow your business. Read Scott's tweet one more time. "This would be a great time for the hospitality industry to establish a @hotels account and shoot me some available properties." How many times a day do your potential customers shout out loud, "Why can't someone in <insert industry here> help me solve my problem?!?"
Trick question. Your customers ask for help all the time. Tools like Twitter simply help you listen more effectively.
Not sure where to start? First, search on Summize for things that matter to you, for instance, marketing, small business strategy or customer service. Read the results. Then sign up for Twitter and follow a handful of people who most interest you on those topics. (Don't be afraid to branch out, either. You can even follow people who talk about your favorite sports team or, yes, cool travel destinations). Join the conversation. Talk about what interests you. Ask questions. Listen. Learn.
The point is Twitter is a great tool. And like all tools, you get the most from it when you use it well. Sometimes you'll get new friends. Sometimes new information. And, every so often, new customers.
---
Are you getting enough value out of your small business website? Want to make sure your business makes the most of the local, mobile, social web? thinks helps you understand how to grow your business via the web, every day. Get more than just news. Get understanding. Add thinks to your feed reader today.
And while you're at it, don't forget to follow Tim on Twitter.