When does marketing become sales? (Guide to Small Business Ecommerce Strategy)
One of the more interesting observations in Josh Catone's Read/Write Web discussion of "6 Ways to Sell Your Stuff Online" is how effortlessly he switches between sales channels (Etsy, self-hosted storefront) and marketing channels (classifieds, social networks). The internet, more than any medium that preceded it, has blurred those distinctions dramatically. Take a look at this: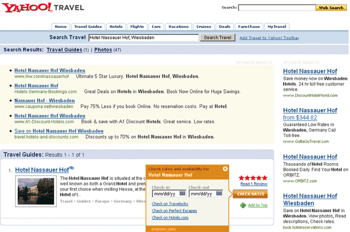 You've got paid search, natural search, images, prices, customer reviews, customer ratings, meta-search, copy and maps all on one page. This isn't some beta product. This is real. This is right now. And it's not limited to travel:

As we've noted here before, you need to understand the right sales and marketing channels for your product. Yesterday, I talked about using a social tool, Twitter, to find a customer and lead to a sale. We've even looked at search engines as a distribution channel. Each of these channels has a cost, some of which you can track directly back to the sale and some of which are harder to measure. But – especially in small business – if you're responsible for marketing and think sales isn't your job, you're not doing your job. And vice versa.
Like this post? Don't want to miss what's next? Subscribe to thinks today and don't miss another post.