Community Managers? Or Community Participants?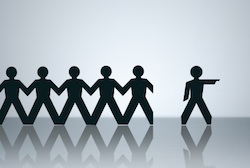 Econsultancy has a look at what makes a good community manager that's well worth the read.
Given my experiences of the last couple weeks (details here, here, here, and here) dealing with the aftermath of Hurricane Sandy and the response — or lack thereof — from people serving my community, one point in particular stood out:
"Passion. Community managers should know the brand and community inside out so they can openly communicate their own brand's passion and values." [Emphasis mine]
Community consists of people. And, as I've said many times before, social is people. I've seen examples of businesses in my community over the last couple of weeks who actually shared my interests (or at least seemed to enough that I couldn't tell the difference — you'll hear more about them in the next few days). And, sadly, I've seen examples of businesses focused only on their interests.
Guess which businesses I — and others within my community — are going to buy from in the future.
The fact is, you're not looking for a community manager. You're looking for a community participant.
If your "community manager" doesn't care about the community, isn't passionate about the community, its people, its values and its long-term well-being, your social media efforts won't succeed. Period. And if you don't support your community manager's passion, your social media efforts also won't succeed.
Being part of a community isn't a marketing exercise. It's something you commit to. If you're interested in being part of the community, find people who share a passion for that community. And if you're not, don't waste your time. Or your customer's.
---
If you can help those dealing with the after-effects of Hurricane Sandy, please visit the American Red Cross.
Want to make sure your business makes the most of the local, mobile, social web? thinks helps you understand how to grow your business via the web, every day. Get more than just news. Get understanding. Add thinks to your feed reader today.
And while you're at it, don't forget to follow Tim on Twitter.
Tim Peter & Associates helps companies from startups to the Fortune 500 use the web to reach more customers, more effectively every day. Take a look and see how we can help you.
Technorati Tags: social, social commerce, social marketing, social media, social strategy