What Community Looks Like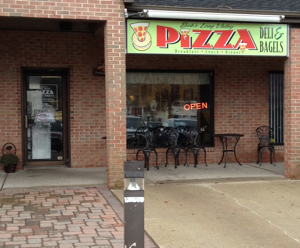 Yesterday I looked at whether you want your social media folks working as community managers or as community participants. Today, I want to look at what the best community managers/participants actually do. And to do that, I want to tell you a story from the recent hurricane here in New Jersey.
Bob's Long Valley Pizza is a small business here in my town. It's also an integral part of our community (in the traditional sense of the word). Bob's supplies pizza to the local high school. It's a popular hangout after soccer games and lots of local workers stop by in the morning for a cup of coffee or a bagel.
But Bob's has an interesting online story too, one that anyone interested in social marketing and community management can learn from.
When Superstorm Sandy struck a couple weeks ago, Bob's fired up a generator and supplied pizza, calzones, salads and bread to the local shelters. Bob's opened its doors to regular customers too. When most of the town was dark and cold, Bob's was one of the few places locals were able to get a warm meal and friendly service.
And while owner Bob Prudente was working his tail off, getting food to hungry folks, his wife Heidi was equally busy, updating the company's Facebook page regularly, letting people know how often the store received deliveries from their suppliers (getting fresh flour and other components for pizzas was one of the biggest challenges) and when the generator had been refueled so everyone knew when fresh pies were available.
But the updates weren't only about the menu. Here's one update, detailing road closures so people could get around town safely: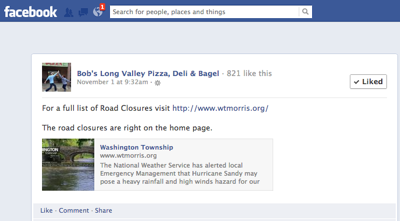 I've said many times that social is people. And when you think about it, this is exactly why the social, local, mobile web exists. If you're looking for ways to improve your content marketing, think about how to answer your customers' real problems.
The Internet is already the world's largest social network, bigger than Facebook and Twitter. It's a tool we all use to stay connected to the communities we care about, whether they're the neighborhood in which we live or a community of shared interests spread all around the globe.
And nothing illustrates more how effective and important that tool can be than a pair of small business owners, working their butts off to get gas for their generator, find food for their fridge, make meals for their customers and keep those customers updated about what's going on in the town at the same time.
That's real commitment to a community. It's not marketing, at least not in the sense most people think of it. It's caring. If you're interested in building and sustaining a community, you've got to care about your customers' needs first, just like Bob and Heidi. And, if you don't care about your customers real needs, "community" is nothing more than a word.
---
If you can help those dealing with the after-effects of Hurricane Sandy, please visit the American Red Cross.
Want to make sure your business makes the most of the local, mobile, social web? thinks helps you understand how to grow your business via the web, every day. Get more than just news. Get understanding. Add thinks to your feed reader today.
And while you're at it, don't forget to follow Tim on Twitter.
Tim Peter & Associates helps companies from startups to the Fortune 500 use the web to reach more customers, more effectively every day. Take a look and see how we can help you.
Technorati Tags: social, social commerce, social marketing, social media, social strategy