Domain selection matters… or, how to avoid the wrath of the Libyan government in your marketing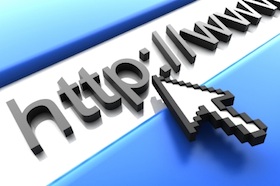 Last week I mentioned how important it is that you're prepared to move your site, just in case your hosting company folds its tents and leaves town in the middle of the night. I've been there before. And, let me tell you, it's ugly.
But what would you do if you need to move your whole URL?
Yep, today, our crack thinks research department (better known as a loyal reader who regularly emails me stuff worth reading) stumbled across this little gem that looks at who controls the .ly domain and what it means to the businesses dependent upon it. It's a real treat.
Here's why.
Most business sites use a .com or .net suffix for their domain (in practice, the part after the last period is called a TLD for Top-Level Domain). But, increasingly, two letter TLDs have become quite popular. For example, before it renamed itself delicious.com, it was just delicio.us (which, still works, too, just like it's supposed to). And I use bit.ly to shorten my links on Twitter.
Which is where this story gets interesting.
See, the two-letter TLDs are technically called ccTLDs, which is short for country code top-level domains. The .us domain, for instance, is for the United States and is very common for U.S. states to use. The .md ccTLD belongs to Moldova and is marketed to the medical industry. The Federated States of Micronesia owns .fm and has leant its top-level domain to great sites like music discovery service Last.fm. And the country behind .ly is Libya. Who, apparently, have some issues with some types of content (think, adult content), being run through their servers.
Picking the right URL for your business is paramount. In fact, we've looked at how to pick the right URL a time or two. And I stand by those recommendations. It's just that going forward, let's add "doesn't have a government that disagrees with my content" to the list of things to think about, OK?
---
Are you getting enough value out of your small business website? Want to make sure your business makes the most of the local, mobile, social web? thinks helps you understand how to grow your business via the web, every day. Get more than just news. Get understanding. Add thinks to your feed reader today.
And while you're at it, don't forget to follow Tim on Twitter.
Technorati Tags:
domain hosting, domain selection, E-commerce, e-commerce, ecommerce, marketing, marketing best practices