Social media outranks e-mail on mobile? Who could have guessed?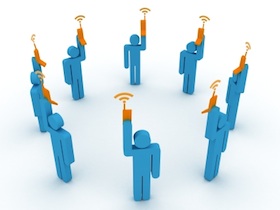 According to Mashable's report on a new study, mobile users find social media more popular than email. The quick detail:
"Mobile users spend 1.4 times as many hours using social networking sites than reading and responding to e-mail, according to a recent study by research company TNS. On average, users spend 3.1 hours per week on social networks, versus 2.2 hours on e-mail."
I've suggested for some time that social and mobile are, increasingly, the same thing. And, I'm a big believer that e-mail is a social network in its own right. So, these numbers don't come as a complete surprise. What I'm curious about is whether there's an overall change in use or if overall use is steady and the amount of time spent on each media has shifted from e-mail to social.
Until I can chase that down, you can benefit in any case. Facebook offers great tools for producing targeted ads to potential customers and Twitter will soon introduce a product for small businesses to deliver adds on the social service. Your customers are clearly using these tools. Are you?
---
Are you getting enough value out of your small business website? Want to make sure your business makes the most of the local, mobile, social web? thinks helps you understand how to grow your business via the web, every day. Get more than just news. Get understanding. Add thinks to your feed reader today.
And while you're at it, don't forget to follow Tim on Twitter.
Technorati Tags:
E-commerce, e-commerce, e-marketing, ecommerce, email marketing, Facebook, facebook, internet marketing, Mashable, social, social commerce, social marketing, social media, social strategy