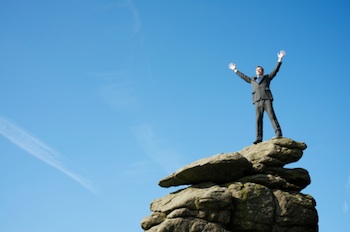 I had a long conversation recently with a close friend who's going through some tough times. His career has hit a couple of roadblocks — including losing a major client — and, making matters significantly worse, he's been troubled by some health issues (Full disclosure: He gave me permission to write about this; any and all identifying details have been changed).
During our talk, though, I was struck by one thing: His intense optimism. "It's going to get better," he said more than once. "Good days ahead."
At one point, I told him how impressed I was by his confidence and his good spirits.
His response was perfect:
"You've got to dream big. What's the use of dreaming small?"
He went on to say:
"Don't get me wrong. There's a lot of work I need to do. Hard work. I don't want my dreams just to end up as silly fantasies or wasted ambition; I've got to get up tomorrow and start taking care of the things that will move me towards what I'm dreaming about. But, it's the dream that keeps me going. Why get out of bed if there's nothing worth working towards?"
What cool advice, right? I love how he acknowledged both the need for a big dream, and the need for hard work. But I think he's right that it all starts with a dream of something better, for you, for your loved ones, for your customers.
One of the reasons I think everyone gets so excited about companies like Apple (who's set to announce its new phones and, potentially, wearable device(s) tomorrow), is that they articulate a big dream for their customers. They paint a vision of the world as a better place, a place that many want to get to. Other companies do this, too, of course, not just Apple. But I wonder whether enough companies do.
Many businesses continue to face struggles from the soft economy. And some of those struggles have nothing to do with a lack of effort. I don't know anyone who isn't working hard these days.
Maybe the problem isn't with the effort; maybe it's with the dream. Instead of just thinking about "How do we make it through this month/quarter/year?" you need to start thinking about your big dreams. What does the world look like when it all comes together?
And, more important, how can you make the world a better place for your family, your children, your customers, and their children? As my friend said, "What's the use of dreaming small?"
Yes, do the work. You've got to get up every day and make it happen. But dream big to give yourself a reason "to get out of bed." A big reason. A big dream. And, then, just like my friend, you'll be just fine.
As a reminder, I'm presenting a webinar called Digital Marketing Directions: Key Trends Driving Your Marketing Next Year on Tuesday, September 16, 2014. You can read all the details here.
You may also enjoy this look at growing your email list and its importance as an e-commerce best practice as well as reviewing the slides from a talk I gave all about email marketing in an age of mobile:
And, if you're interested in learning even more about how customers changing behavior shapes e-commerce and marketing, register to receive a special report I've produced in conjunction with hotel marketing firm Vizergy, "Digital Hotel Marketing in a Multiscreen World." While it's targeted specifically at hotel and resort marketers, the lessons apply to just about any business. You can get your free copy of the report here.
Finally, you might also enjoy some of our past coverage of the mobile, local, social web and how to make it work for your business, including: