F-commerce is here. And it's for real.
"The future is already here. It's just not evenly distributed" – William Gibson
Ah, Mr. Gibson, you really do know what you're talking about. Why do I say that? Well, I mentioned yesterday two facts about consumers use—or lack thereof—of the mobile web, stating:
Customers will use it; and,
It will happen faster than you think.
The same holds true for social. It's pretty clear, that with its gazillion-plus members, Facebook demands attention as a marketing and commerce platform. Sure, no one quite knows how to make money with it, but that's because customers themselves still don't know how they want to use it for shopping and purchasing.
But they're learning. And quickly.
A few months ago, I wrote about how you can take advantage of social and mobile commerce and I suggested that, when it comes to F-commerce (that's Facebook commerce), you can learn from the "big guys" such as Proctor & Gamble. Now there's another big guy to learn from. Check out what Best Buy is doing in Facebook: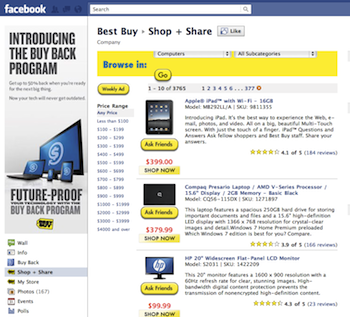 Yep. That's real, honest-to-blog, embedded commerce within Facebook. Now, as Mitch Joel points out today, "…this is a huge deal that every business should pay attention to." I quite agree.
Happily, Facebook is making it easier for businesses of all sizes to make their pages more functional by switching to iFrames from their proprietary language.
There are obvious risks in relying on a platform you don't control as a major source of business. But, that's just as true of Google today and I don't see businesses abandoning the Big G in droves. Plus, isn't the risk from not engaging with your customers on Facebook greater?
Regardless of what happens with F-commerce, I doubt this will make your website any less important in the long run. But it underscores how important leveraging social is a huge part of building an effective overall web presence. The future is already here…
Today, the "F" in F-commerce stands for Facebook. But it could just as easily mean "for real." When it comes to engaging your customers in the social space, the question now is, are you?
---
Are you getting enough value out of your small business website? Want to make sure your business makes the most of the local, mobile, social web? thinks helps you understand how to grow your business via the web, every day. Get more than just news. Get understanding. Add thinks to your feed reader today.
And while you're at it, don't forget to follow Tim on Twitter.
Technorati Tags:
E-commerce, e-commerce, E-commerce strategy, e-marketing, ecommerce, Facebook, facebook, internet business, internet marketing, online marketing, social commerce, social marketing, social strategy, F-commerce