Forget Mobile First; It's Guest First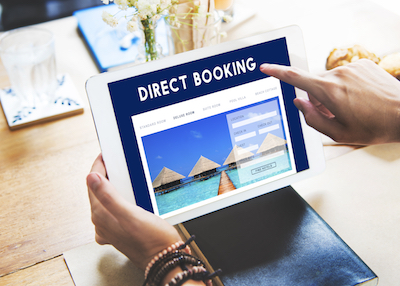 Roughly 20 years ago, investors placed their bets on a variety of technology providers, expecting them to reshape the travel industry. And in the years since, Expedia, Priceline, TripAdvisor and others have done just that. As a hotel executive, you live in an environment largely shaped by these travel giants. The challenges hospitality leaders routinely recount in conversations with peers and the press — the increasing cost of distribution, the tyranny of guest reviews, the rapid pace of technological change — can be attributed directly first to activities driven by guests but also actively enabled by online travel providers.
That was then. Now, we're living through the next phase of upheaval in the industry. Mobile continues to transform the guest's experience much as the Internet has over the last 20-odd years. And yet I often hear from hoteliers who feel that these changes are at best a distraction, and, at worst, a complete waste of time.
Santayana's famous adage, "Those who cannot remember the past are doomed to repeat it" feels terribly appropriate. Because if you think mobile won't affect your business, here's a quote you might want to keep in mind:
"The reason why we invested in a company that does hotel operations… [is]it also optimizes the relationship with the guest. Then we can plug that into our own apps and provide a completely seamless consumer experience, from the search, to the booking, to the on-property experience, to the post-stay review"
Who said it? Cyril Ranque, president of Expedia Lodging Partner Services in a discussion on Tnooz. He's talking about Expedia's investment in ALICE, a tool that allows guests to connect with your staff to address issues while on-property. But note again why they're doing this: To "…provide a completely seamless consumer experience, from the search, to the booking, to the on-property experience, to the post stay review." [Emphasis added]
I'm sorry, but isn't that our job as hotel executives?
Over the last 15 years, we've found new and innovative ways to let OTA's connect with our guests. And they're quite happily providing us the tools to do it all over again.
It's not just Expedia, of course. Priceline and TripAdvisor and the rest of the usual suspects have announced plans with similar objectives, if not similar approaches. And of course, these ignore "new" entrants such as Google and Facebook and Airbnb — and ignores the fact that Airbnb is already celebrating its tenth anniversary.
Even worse, we seem to want to do this during a historically great period for travel. At least 15 years ago, we had the economy and the tragedy of 9/11 to provide some justification for these decisions.
Why do we keep doing this to ourselves? Where does this end? And, most importantly, how can we get off this merry-go-round of self-defeating outsourcing to the OTA's? How can we leverage the benefits of mobile specifically, and digital more broadly, to provide the seamless experience for our guests?
Mobile Drives Guest Experience
Notwithstanding the above, OTA's are not the bad guys here. They simply recognize that today's guests expect to connect with the information and services they want, whenever and wherever they happen to be. And they're responding to those expectations by creating tools that allow guests to do just that.
We need to do the same.
It's become a mantra among many early adopters that we must be "mobile-first" in our dealings with guests. And while that's somewhat true, it misses the broader point. Because the key isn't to be "mobile-first;" it's to be "guest-first." Mobile happens to hold the lead position in the market because it's the device your guests use most often today. But digital leaders focus first on what guests truly need, then choose the appropriate platforms to answer guest questions and meet those needs. Guests could easily gravitate towards technologies such as wearables, smart speakers (e.g., Amazon Echo/Alexa), artificial intelligence (AI), the Internet of Things (IoT), virtual reality (VR), or augmented reality (AR) in the next few years. You don't want to put a specific technology — not even mobile — at the center of your efforts. You want to make your guests the center of your attention.
Digital leaders don't make "technology" decisions; they make guest experience decisions. The OTA's have made wise technology and innovation investments by listening to customers and placing their bets on how best to help them throughout their journey. Today it's mobile; tomorrow it could be something else. They're not developing a technology strategy. They're developing a business strategy that recognizes how guests' needs have changed and developing what's necessary to meets those needs.
It's time you do the same. In fact, thinking about investments in terms of their benefit to guest experience often helps improve net operating income (NOI) while also keeping pace with competitors. More on that in a moment…
The Rating Game
It's no secret that your hotel depends on receiving a healthy volume of quality reviews and ratings on TripAdvisor and OTA sites to drive business to your property. Given that most guests check your property's reputation before making a booking decision, it's safe to say that your brand is only as good as your last review.
Mobile only amplifies this reality. First, potential guests use mobile to check ratings and reviews whenever they want during their trip-planning process. Even walk-ins and last-minute bookers have the information they want at their fingertips to choose the right property for their stay. The days where you could succeed based on information asymmetry — you knew more than the guest about not only your property's strengths and weaknesses, but everyone else's in the marketplace — are long behind us. Guests today know more about our properties than most of our staff does — they have greater incentive to do so.
But guests aren't just information consumers. They're information creators as well. They carry the equivalent of a printing press, high-definition video and still photography camera equipment, publishing house, and broadcast network in their pocket. TripAdvisor's users alone publish over 280 reviews on the site every single minute. Guests also post tens of thousands of photos and comments per minute on social media channels such as Facebook, Instagram, and Snapchat. The Internet handed every one of your guests a platform to say whatever they want about your property. Mobile made that platform omni-present.
Some New Rules of the Game
In their landmark book Information Rules: A Strategic Guide to the Network Economy, Carl Shapiro and Hal Varian — now Google's Chief Economist — explained that digital only provides two avenues for success:
Dominant firms
Differentiated products
OTA's represent the dominant firms, aggregating data about every property, vacation rental, and alternative accommodation in each market and providing guests choice and insights into the "best" options for their next trip. Marriott's acquisition of Starwood and Accor's expanded e-commerce efforts represent two attempts to counter that dominant position. However, that ship may have sailed.
On the other hand, differentiating your product from the competition, providing your guests a great experience that they're eager to share with their friends, family, fans, and followers, and focusing your energies on continual improvement of that experience, is well within your reach.
And taking this approach can help improve your net operating income. First, by investing only in areas that improve guest experience, you can reduce expenses. This focus helps your team prevent "shiny object syndrome," continually chasing "the next big thing" and consuming a fair bit of your expense budget along the way.
Additionally, greater focus on guest experience typically improves the quantity and quality of ratings and reviews your properties receive, both on formal review sites and through your guests' social connections. This can help reduce marketing expense by your properties reaching more potential guests in a more cost-effective manner. Even better, improvement of your ratings and reviews often leads to increased bookings and revenue. And a differentiated offering often provides the opportunity to raise rates to boot. All together, these actions lead to a virtuous cycle of lower costs of guest acquisition, higher rates, increased occupancy, and improved net operating income for your properties.
The Plan
Of course, delivering on this virtuous cycle isn't as easy as wishing it were so. But you can focus on a few key questions to help begin the process.
First, what do you know about your guests today? What data do you have about their preferred shopping and booking channels? How are they using digital to make their decisions? And how successful are you at helping them at each touchpoint they have during their journey? The better you understand your guests' needs, the more effective you will be at anticipating the right way to help them choose you.
Next, what are your capabilities to support guests at each step in their journey? Does your team have the knowledge, skills, and incentives to address guest needs appropriately? Have you created and curated the right content to answer guest questions and is that content easily accessible to guests regardless of device or channel? Do your existing tools make the guest experience more pleasant — or more painful? Take the time to conduct a thorough review of where you are today so you can best identify the gaps in the overall guest experience. Then prioritize closing the highest-impact gaps right away.
Finally, what vendors, partners, and products exist to help you get to market quickly and easily? Assess not only your existing partners, but also new entrants who may have a fresh approach to the situation. You may end up partnering with OTA's or partners they've invested in. Despite my earlier warnings, that's not tragic if you understand how you're going to work with them in the near term and further into the future. Use them to solve the problems that you can't solve on your own more efficiently or effectively. But also look for others who can minimize your dependency on any one provider.
Continually ask yourself how you're doing in terms of creating a better, more differentiated experience for your guests. Evaluate new tools for their effect on driving an improved guest experience. And assess your team's success at driving increased ratings and reviews, greater website or mobile app traffic, increased conversions and revenue, and improved net operating income. Remember that this isn't about the technology; it's about the business and how you can move it forward.
Conclusion
You can compete with OTA's using mobile and other emerging technologies. The key is not get sucked into "shiny object syndrome" or to attack them head-on, but to focus your efforts on improving your guests' experience at every step of their journey. These enhanced experiences encourage guests to share your story with their friends and followers on social media, leading to a lower cost of guest interest and acquisition. And, this continual focus from your team can reduce your operating costs due to fewer delayed or failed projects, further improving NOI for your properties.
Roughly 20 years from now, some future hotel executive may look back at the investments hotel companies, OTA's, and new entrants made today that changed the industry even further. They'll live in an environment shaped largely by the decisions you make today. Of course, challenges will still exist. But the leaders that best understand and adapt to how guests' needs have evolved, who put the guest first and help them use the tools they prefer, will be the ones who write that future. Why not have it be you?
A version of this column originally appeared on Hotel Executive. Reprinted from the Hotel Business Review with permission from www.HotelExecutive.com