Google's 2012 Traveler "Road to Decision" Presentation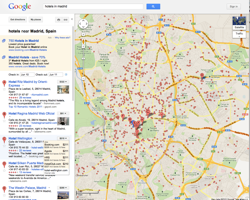 Google has released its 2012 Traveler "Road to Decision" presentation. Good stuff. Here are the key takeaways you need to know:
Travelers desire to define value continues to be strong. This was a big theme of my presentations to NGCOA and to HEDNA earlier this year.
Leisure and business travelers prioritize search differently. This is new. In the past the differences between leisure and business were fairly minimal.
Mobile is driving increased search query growth.
Significant growth in both leisure (38%) and business (57%) traveler mobile access to travel information on the Internet.
Oh, and both business and leisure travelers increasingly "don't use a computer" to access that information (ignoring, of course, that mobile devices are computers.)
A bad mobile website blocks bookings (#1 determining factor). Make sure you're mobile enough.
Video offers opportunity to differentiate your travel product.
Google no longer offers the presentation to embed (as of mid-2013, which leads me to believe the 2013 data is coming soon). In the meantime, you can download the presentation as a PDF here or view it on Google here.
Of course, don't forget, I'm available to speak about these and other key trends affecting the industry at your next event.
If you're interested in learning more about travel marketing and where it's going—as well as lessons that apply to a host of other industries—register to receive a special report I've produced in conjunction with hotel marketing firm Vizergy, "Digital Hotel Marketing in a Multiscreen World." You can get your free copy of the report here.
Finally, you might also enjoy some of our past coverage of these changes in the marketplace, including: