Is it possible to fail too fast online?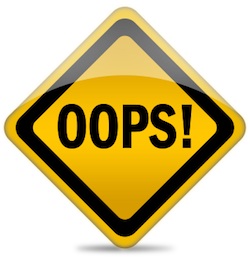 Last week, TechCrunch outlined a speech given by former PayPal executive and founder of LinkedIn, Reid Hoffman, where he discussed how important it is to "fail fast." Here's his thinking:
"Hoffman also talked about some of the pivots he's been through during his time as an executive at PayPal and later at LinkedIn. He subscribes to the 'fail fast' mantra — you need to ship your product as soon as you can, and if you're not embarrassed by the first product you launch, you've waiting too long.

He recalled one relevant anecdote to this theory: just before LinkedIn was due to launch, his team of engineers said that they had to wait until they could implement a 'contact finder' that would help users hone in on the kind of people they wanted to connect with. Hoffman asked his team if it would be possible to wait and implement this after the launch. The answer was yes, so Hoffman said to launch as planned, and that they'd implement the Contact Finder as soon as possible if it was clear that users wanted it. Seven years later, LinkedIn has yet to launch the feature — it simply isn't needed."
Generally, I agree. In fact, "fail fast" is something of a mantra of mine (though, admittedly, I've also been partial to Mike Moran's "Do It Wrong Quickly" verbiage).
Unfortunately, something happened today that forces internet marketers and small business owners to perk up and say, "Can you fail too fast? Is it possible that doing it wrong quickly is the wrong thing to do?"
What is that something?
Well, it looks like Facebook has managed to jack with the privacy of its customers. Again. To be fair to Facebook, this looks like an oversight, rather than overstepping its bounds. But, is it possible that they're failing a little too quickly? And is that a model you want to emulate?
I believe the answer is… maybe. I don't think it's possible to fail too fast overall. But it's clear some areas – your customer's privacy being right at the top of the list – are a good place to take your time.
If you do have an issue, be proactive. Own up to the issue and make it right for your customers. There's nothing wrong with failing fast online. Just be prepared to recover as quickly.
What do you think? Can you fail too fast? Or is this just the reality of the web? Tell me what you think in the comments.
---
Are you getting enough value out of your small business website? Want to make sure your business makes the most of the local, mobile, social web? thinks helps you understand how to grow your business via the web, every day. Get more than just news. Get understanding. Add thinks to your feed reader today.
And while you're at it, don't forget to follow Tim on Twitter.
Technorati Tags:
continuous improvement, Facebook, facebook, marketing, marketing best practices, social, social marketing, social media, social strategy, solutions, customer service, Do It Wrong Quickly