Is Testing 41 Shades of Blue a Good Idea?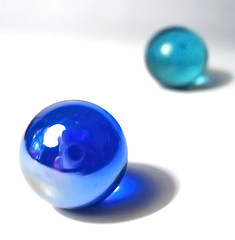 Is testing 41 shades of blue a good idea?
Here's a quiz:
What company do you think has the most successful product managers right now?
What company best understands their customers' deepest needs?
What company is willing to go the extra mile to meet those needs?
If you answered Google to all of the above, you're right.
And what makes them so good at it? Well, here's how far Google is willing to go to meet their customers' needs.
According to this New York Times profile of Marissa Mayer – Google's vice president of search products and user experience, and the most powerful woman on the Internet – Google is testing 41 different shades of blue to see which one consumers prefer. Of course, "prefer" in Google's terms means, "click the most." And since each click equals revenue, it's clearly in Google's best interest to find out what their customers prefer. Just like on your site.
So, how come you're not A/B testing? Whether it's headlines or copy, images or information, calls-to-action or content, A/B testing is always the right idea. Maybe you're wondering what to test first.
You could do worse than learning from Google. They've got a YouTube channel dedicated to Website Optimizer.
Or to learn more, read Tim Ash's "Landing Page Optimization"

and Bryan Eisenberg's "Always Be Testing: The Complete Guide to Google Website Optimizer".
The point is, plenty of tools exist to help you improve your site and improve your revenues. You may not need to test 41 shades of blue. But in this economy, testing just might keep you out of the red.
Interested in learning more? Register to receive a free copy of my new special report, "Digital Hotel Marketing in a Multiscreen World," produced in conjunction with Vizergy, here. While it's targeted to the hospitality industry specifically, most of the lessons apply across verticals. And, if that's not enough, you might also enjoy some of our past coverage of the e-commerce, including:
Image credit: Gabe Photos via Flickr using Creative Commons Attribution 2.0 Generic.