Is your marketing built to last?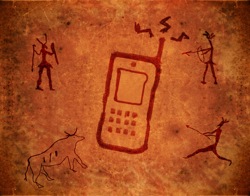 We've got lots of significant birthdays among the thinks family tree this month. So, as often happens on anniversaries and birthdays, I've been spending loads of time thinking about what's really important in life. Health. Happiness. Family. Friends. A really cold beer on a hot day. Y'know, the stuff that really matters.
Now, one of the things that really matters to me is my work. Like many of you, I find a lot of meaning in what I choose to do for a living. So, the same thought came to me about brands and brand building, the way we market and whether any of it has long-term value. Trendy technologies come and go. Do any of us believe we'll still be using Twitter 10 years from now? Probably not. But are there any constants in brand building that you can benefit from both today and in the longer term?
I think so.
Here, in no particular order, is my simple list:
Story. We've been storytellers for longer than we've had language. Those cave paintings in France were likely some Neanderthal's way of telling his buddies/followers how big a beast he faced. Do you know what your story is? Can you articulate it clearly? And, more importantly, what stories do your customers tell about you?
Emotion. The critical component of story is emotion. What do people feel after hearing your story? Even B2B marketers rely on emotion (else, why would "No one ever got fired for buying IBM/Microsoft/etc."-type FUD have worked?) What emotion helps tell your brand's story? What do your customers feel about you today? Have you asked? Have you listened?
Connection. There's a huge reason why tools like Twitter, Facebook and Foursquare are so big: they connect people to one another. The internet marketing landscape is littered with tech that helped people talk. Remember Usenet and BBS's? Compuserve and Prodigy? AOL and Instant Messenger? Social and mobile and email and location-based services that enable those same connections matter. Not because they matter to customers. Because they matter to human beings. Whether the individual technologies or companies continue to thrive, the underlying need will persist. Are you helping your customers connect? Or hindering those connections?
Internet marketing is itself still in its cave painting days. We're all still learning how to use the Internet as people. Which makes it hard to know how to use it as a marketer. But…
We don't market to prospects or channels or consumers or customers. We market to people. Human beings. Our fellow man, woman and child. Our neighbors. Our friends. Our family. Search and social and local and mobile are merely a means to share story, express emotion and create connection. At least if you use them that way.
Grab a cold beer from the fridge, sit down, and reflect for a moment. Is your marketing telling your story? Does it evoke the emotion you hope it would? And does it encourage connection? Think about the marketing you remember from your youth. Who didn't love the Coca-Cola "Mean Joe Greene" ad? It works on all of those levels.
When archaeologists look at your marketing years from now, will they only be able to find it painted on the walls of long-forgotten caves? Or will there be no need to go looking for it because it was built to last?
(P.S. – Happy 80th, Dad! The beer is on me.)
---
Are you getting enough value out of your small business website? Want to make sure your business makes the most of the local, mobile, social web? thinks helps you understand how to grow your business via the web, every day. Get more than just news. Get understanding. Add thinks to your feed reader today.
And while you're at it, don't forget to follow Tim on Twitter.
Tim Peter & Associates helps companies from startups to the Fortune 500 use the web to reach more customers more effectively every day. Take a look and see how we can help you.
Technorati Tags:
2011 predictions, advertising, creativity, e-commerce, E-commerce strategy, e-marketing, ecommerce, email marketing, Facebook, facebook, Google, google, internet business, internet marketing, marketing, marketing best practices, marketing predictions, online marketing, predictions, search, social, social marketing, strategy, success