Internet marketing is still in its cave painting days [INFOGRAPHIC]
Yesterday, I suggested you evaluate whether your marketing is built to last. And I mentioned how, in many ways, internet marketing is still in its cave painting days. Sure, many of us have been doing it for 15 years or more, but, in real terms, that's not very long at all. Really, compared with most other media, internet marketing is just getting started. Take a look (you can click to make the image a lot bigger):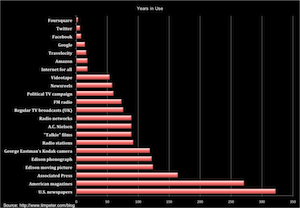 You can see how short a time many of the media we take for granted have been around. We're barely off the ground floor. But, just like getting in on the ground floor of any business, it's going to be exciting to watch where these end up, eh?
(Special thanks to Professor Jim McPherson for his media timeline)
---
Are you getting enough value out of your small business website? Want to make sure your business makes the most of the local, mobile, social web? thinks helps you understand how to grow your business via the web, every day. Get more than just news. Get understanding. Add thinks to your feed reader today.
And while you're at it, don't forget to follow Tim on Twitter.
Technorati Tags:
2011 predictions, amazon, E-commerce, e-commerce, E-commerce strategy, ecommerce, Facebook, Google, internet business, internet marketing, marketing, online marketing, search, social commerce, social marketing, social media, social search, social strategy, strategy