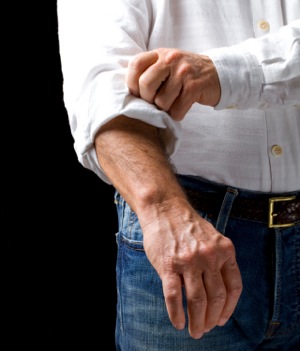 Jim Kleinsasser is a professional football player. Well, was, anyway. He retired a couple days ago, shortly after his team's season ended. Kleinsasser played 14 seasons—all for the same team—occasionally catching passes, but mainly blocking for the team's primary ball carrier. In a brief interview with Sports Illustrated's Peter King, here's what he remembered has his proudest moment as a player:
"Remember Adrian Peterson's record-breaking game against San Diego? [Peterson rushed for a single-game-record 296 yards against San Diego as a rookie.] I had a block in that game I'll always remember. It was a kick-out block to the sidelines, I think it was Shawne Merriman, and Adrian got a huge run, and he went on to make history. That was always important to me, because it was my job." [Emphasis mine]
Note, Kleinsasser didn't talk about his touchdowns (and with only 6 in 14 seasons, you'd think those would be memorable).
Nope.
He talked about pride in doing his job.
As you're kicking off the New Year and thinking about what you want to accomplish, are you thinking more about the accolades and awards or about the effort you plan to give? Which one do you think matters more?
---
Are you getting enough value out of your small business website? Want to make sure your business makes the most of the local, mobile, social web? thinks helps you understand how to grow your business via the web, every day. Get more than just news. Get understanding. Add thinks to your feed reader today.
And while you're at it, don't forget to follow Tim on Twitter.
Tim Peter & Associates helps companies from startups to the Fortune 500 use the web to reach more customers, more effectively every day. Take a look and see how we can help you.
Technorati Tags: inspiration, leaders, leadership, success, teamwork, vision