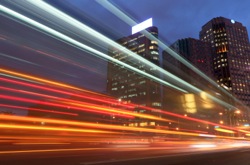 Today marks the 8th day following Superstorm Sandy we've been without power in my local community. Now, for many of us, power equals not only lights, but heat and water due to the prevalence of electric heat and water supplied from wells. I have little doubt that our local utility company's workers are out in force, trying to get the lights back on; I appreciate their efforts.
And compared with those people who lost their homes or businesses outright, a week plus without electricity seems more inconvenience than life-altering event.
At the same time, our economy depends upon reliable power generation. High-speed Internet access, smartphones, tablets and all the rest prove little more value than a doorstop if there's no current to keep them charged.
Many businesses, large and small, faced significant impacts due to the loss of power. Many workers could not commute to their place of business. Many businesses didn't — or don't — have lights (or heat or computers or what-have-you) for those workers when they got there. As of this morning (November 5), some 750,000 customers of New Jersey's utility companies remain without power and a bit over 1 million more people don't have power across the Northeast.
Oh, did I mention it's been eight days since the storm?
Happily, we all have another kind of power: political power. Tomorrow marks election day here in the United States. Use your power. Get out and vote.
Then ask your elected officials — local, state and national — how they plan to ensure the lights stay on during the next "Superstorm." Or natural disaster. Or man-made event. And hold them to their response. Or kick 'em out if they haven't got a good one.
A modern economy is powered by the inspiration and perspiration Tom Edison referenced some hundred years ago. But it depends on the power coming from the light switch and the wall socket, too.
If the lights can go off in the most densely populated part of the country for more than a week, they can go off for as long or longer almost anywhere else. In a time of cloud computing and "Internet everywhere," it's time our power generation moves into the 21st century, too.
---
Normally, I use this space to talk about what we do here at Tim Peter & Associates. But with so many suffering the after-effects of Hurricane Sandy, please visit the American Red Cross and help any way you can.