It's All E-commerce Goes to the Mall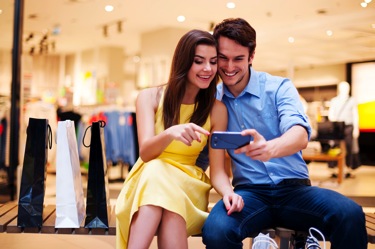 Apple announced today that it's enabling "location-aware" iBeacons in all its stores today. The big idea here is that these beacons can guide you — or better yet, your customers — and provide alerts in-store based on your precisely where you are.
In theory, this is a pretty big deal.
Most smartphones today are pretty capable, but don't know much about the world immediately around you. Sure, you've got maps and Foursquare and Yelp and all that, which give you a rough idea of where you are and what's around you. But, they don't show you which aisle you're in or which floor you're on when you're standing in a store. And now that's changing.
iBeacon, and competing technologies like NFC, can locate precisely where you are. Can't find a sales associate? That's OK. These beacons can point you in the right direction to find what you're looking for.
Even better, both technologies make it easy for you to pay with your mobile phone. For instance, check out PayPal's coming PayPal Beacon payment system:
Apple's already embraced these types of friction-free transactions with its EasyPay system and I'd expect them to move further down the road here using iBeacon, too.
Now, I don't know which technology (iBeacon or NFC) will win. But one potential advantage for retailers is that iBeacon has a range of 50 meters (roughly 164 feet), while NFC has a range of only 8 inches according to Pocket-lint. Obviously, that allows retailers to provide greater in-store coverage with fewer sensors — and lower cost.
In any case, your customers' phone has just gotten a lot smarter and a lot more capable when in-store. So, remind me again where retail ends and e-commerce begins? As I like to say, it's all e-commerce.
If you're interested in learning more about the future of e-commerce and marketing via the social, local, mobile web, register to receive a special report I've produced in conjunction with hotel marketing firm Vizergy, "Digital Hotel Marketing in a Multiscreen World." While it's targeted specifically at hotel and resort marketers, the lessons apply to just about any business. You can get your free copy of the report here.
You might also enjoy some of our past coverage of the social, local, mobile web and what it means for your business, including: