Measuring Traffic Segments: Web Analytics Fundamentals
Last time, we took a look at measuring website traffic. Today, we're going to look at where that traffic comes from.
As mentioned in our 7 web keys for successful web metrics, segmenting traffic allows you to quickly identify where your traffic comes from and, ideally, which traffic provides the greatest value to your business. Happily, looking at traffic segments in most tools is pretty straightforward affair.
Traffic comes to your site from one of three places:
Direct navigation. These folks typed your website address directly into their browser, had your site bookmarked or (in some cases), followed a link from within an email.
Search engines. These customers found you in a search result. Just about every tool on the market can further divide this into paid search (i.e., PPC marketing) and natural search (SEO).
Referred. These folks clicked on a link on another site (other than a search engine) that points to yours. Much like search, these often break down into paid referrals (think banner ads) and natural or "earned" links. A customer linking to your site on Twitter is a referral as is the banner ad you bought. Understanding which one drove traffic, though, can tell you much more about what's working and what isn't among your marketing.
Additional valuable segments to watch include customers responding to emails, new visitors vs. repeats, and loyal customers vs. non-loyal (i.e., those enrolled in your loyalty program, if you have one).
For these segments, note where the bulk of your traffic comes from. From a marketing perspective, that's where you're going to want to focus first. As with measuring your overall traffic, you're looking for anomalies, big changes, things that stick out.
For instance, in the following graph, search represents the lion's share of traffic—and almost 100% of the growth in traffic—to the selected site. The marketing team for this site should look more closely at what's driving that growth, while also looking at ways to increase direct and referred traffic: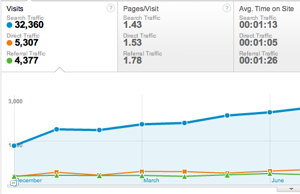 One caveat to keep in mind: the bulk of your sales may actually come from a lower traffic segment. In fact, it's fairly common. Don't worry, though, we'll explore that in more detail when we start looking at conversions.
And, of course, as you drill down further into each of these segments, look at which sites drive your referred traffic and which keywords drive paid/natural search.
Once you've looked at traffic in the aggregate and by segment, it's likely you'll already start to think of ideas for how to grow that traffic. Which is the real point of any analytics exercise: to create actionable insights.
Find a paid keyword that's producing a load of traffic? See if you can allocate more budget to it. Discover a referrer that's driving serious demand? Contact their team about deepening the relationship. Realize that most of your traffic comes from a single source, as in the example? Look for ways to diversify your marketing. And so on.
Web analytics needn't be difficult. Analytics exist to help you understand what's going on with your customers, your website and your business. Notice that only looking at some high-level metrics offers you a wealth of opportunities to increase your revenues. Your goal isn't to spend your life inside your analytics tool. It's to gain enough information to make a reasonable business decision about areas of focus.
Tomorrow, we'll take a look at conversion rate, what it really means for your business and some surprising truths that you may not know. In the meantime, check out the entire Web Analytics Fundamentals series here.
---
Are you getting enough value out of your small business website? Want to make sure your business makes the most of the local, mobile, social web? thinks helps you understand how to grow your business via the web, every day. Get more than just news. Get understanding. Add thinks to your feed reader today.
And while you're at it, don't forget to follow Tim on Twitter.
Tim Peter & Associates helps companies from startups to the Fortune 500 use the web to reach more customers, more effectively every day. Take a look and see how we can help you.
Technorati Tags: analytics, E-commerce, e-commerce, E-commerce strategy, Google Analytics, internet marketing, measurement, metrics, online marketing