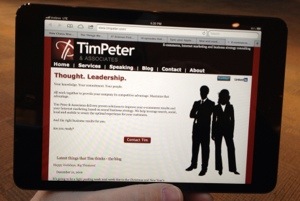 I finally got my hands on an Apple iPad Mini.

I've had an original iPad since shortly after they first came out and, as much as I loved it, it's feeling its age. The new iPad mini offers improved functionality, runs iOS 6 (the original iPad can't upgrade past iOS 5.1.1), adds still/video cameras, and comes in a sleek, lightweight form factor.
A few words of caution. I'm not going to compare the iPad mini to other tablets on the market much. I don't have access to those devices and can't make a fair "apples-to-apples" comparison (no pun intended). I will say that I opted for the mini for one main reason: I already use a Mac and an iPhone. I create many presentations in Keynote (though also live in MS Word, Excel and Google Chrome for huge chunks of my day). I use iCloud to share photos and presentations across my devices. In other words, I depend on Apple's ecosystem pretty heavily. If you want to call me a "fan-boy," I won't argue (it's not accurate, it's not worth fighting about though). I was an early Android user, switched to the iPhone a couple years ago and have stuck with iOS. Keep in mind that every penny I spend on gear could also be invested in other areas of my business. I may like Apple products. But I like getting value for my dollar more.
So, how does the iPad mini stack up? Well, here are my initial thought after a few days of regular use.
What I like
Size. The iPad mini lives up to its name. The photo attached to this post illustrates exactly how small it is. In fact it only weighs a bit more than my iPhone. It's easy to carry around and easy to hold at length. It's also surprisingly easy to type on. In fact, I composed this entire post using my mini and the WordPress app.
Utility. Despite its diminutive size, the iPad mini offers plenty of power. Response time is quick and, if it's underpowered compared with alternatives on the marketplace, I haven't noticed it.
The screen. Some reviews of the mini suggest the screen isn't very good. I don't see it (pun very much intended). I don't have an iPhone 5 or one of the Retina-display iPads, but the screen looks great to me. I watched The 2009 Star Trek film the other night and the picture looked outstanding. Web pages, fonts and the Kindle app provide clear, sharp text. Maybe I'm not accustomed to higher-res devices. But the screen looks great to me.
Battery life Awesome. I used the mini for a solid 8 or 9 hours the other day, surfing the web, checking email, watching videos and a feature film with battery to spare. Seriously, it's awesome.
Apps. OK, so I've covered this a bit in the "utility" item a moment ago. But, the iPad mini uses the same apps as its siblings, the iPad and the iPhone. Which means you've got lots of app options. And since I use Evernote along with both iCloud and Dropbox, I was up and running, with all my data available to me within 20 minutes of opening the box. Sweet.
What needs work
Size. Wait, didn't I just say the size was a good thing? Well it is. But the iPad is so slim and light that I worry about it slipping from my hand while carrying it. That means you've got to add a case. And that means added weight/bulk, which sort of defeats the purpose of being so light and trim. I suspect this is true of all the 7″ tablets out there (and certainly falls into the realm of "First World problems"). I'm still in the market for a case (I don't like Apple's Smart Cover, which only protects the screen), so maybe I'll find something that protects without significant weight/bulk. But I wish Apple offered a better alternative here.
Cost. let's be blunt: the iPad mini is not cheap. 32GB of storage with 4G cell coverage and Wifi is going to run you just under $600. Clearly, there are cheaper alternatives out there. I think the mini justifies its price with a more seamless experience and a broader array of apps, especially if you're already using other Apple products. But, if you're using Android on your mobile device, rely solely on Google apps or won't use your tablet often, you might have better (well, cheaper, anyway) options.
The bottom line
Do I like the iPad mini? No. I love it. It does exactly what I need it to do, integrates seamlessly into my work and life, and replaces a long-standing core tool (my old iPad). Sure, if you're an Android user, you might prefer alternatives. But if you're already living in Apple's ecosystem and need/want a 7″ tablet, grab an iPad Mini

today.
---
If you can help those dealing with the after-effects of Hurricane Sandy, please visit the American Red Cross.
Want to make sure your business makes the most of the local, mobile, social web? thinks helps you understand how to grow your business via the web, every day. Get more than just news. Get understanding. Add thinks to your feed reader today.
And while you're at it, don't forget to follow Tim on Twitter.
Tim Peter & Associates helps companies from startups to the Fortune 500 use the web to reach more customers, more effectively every day. Take a look and see how we can help you.