A Digital Marketer's New Year's Resolutions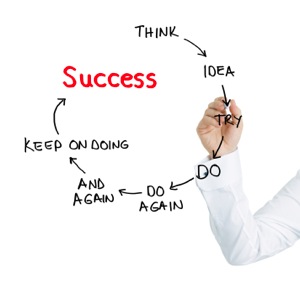 I'm not a big fan of New Year's Resolutions. I think it's more important to evaluate yourself and your progress towards goals all throughout the year. At the same time, holiday downtime offers a fantastic opportunity to review where you are and where you're going.
With that in mind, I thought I'd share several goals/resolutions for the coming year for my business that might work well for you (and feel free to keep me honest about how I'm doing throughout the year, too):
Offer more valuable information to customers. Customers look for information that helps them solve a problem. They search and they struggle to find answers to their questions. And those searches, shares, likes and links help you understand what's important to your customers. For instance, your most shared posts of 2012 showed people increasingly looked for information about digital marketing fundamentals, mobile, customer behavior, analytics and e-commerce. As such, I'm going to increase the amount of information on those topics for you. For starters, I've partnered with Mike Moran and Rob Petersen to create Biznology Jumpstart Workshops, digital marketing training programs designed around solving existing business challenges. The first offering focuses on search marketing and analytics and we'll be adding more over the coming months. The information your customers will be different. But you can be sure whoever in your industry does the best job of helping customers find that information will win in 2013 (and beyond).
Grow your email list. As I noted in my podcast a few weeks back, email remains one of the strongest marketing tools around, particularly given the growth of mobile. Offer your customers value to get them to subscribe to your email list. (Oh, and while you're at it,
subscribe to our newsletter, too).
Just remember that the customers who have asked to hear from you typically engage more often, for longer periods and, most importantly, spend more. Your email list is only dead if you kill it. So let's all focus on getting the most out of email this year.
Listen. Finally, nothing's more important to your marketing success than listening and understanding your customers' needs. And while I've talked about this for a long time (for instance here and here), I need to remind myself to listen to what customers have to say, too. So, expect to see me listening and engaging on Twitter and LinkedIn (as well as here on the blog and a few other sites) over the coming months.
What are your resolutions or goals for this year? I'd love to hear what you think. Drop a line in the comments below and let me know what you're looking forward to ini the coming year. And thanks as ever for reading.
---
If you can help those dealing with the after-effects of Hurricane Sandy, please visit the American Red Cross.
Want to make sure your business makes the most of the local, mobile, social web? thinks helps you understand how to grow your business via the web, every day. Get more than just news. Get understanding. Add thinks to your feed reader today.
And while you're at it, don't forget to follow Tim on Twitter.
Tim Peter & Associates helps companies from startups to the Fortune 500 use the web to reach more customers, more effectively every day. Take a look and see how we can help you.
Technorati Tags: 2013 trends, E-commerce, e-commerce, E-commerce strategy, e-marketing, ecommerce, email marketing, strategy, success