Search? Metasearch? What's the Difference? (Travel Tuesday)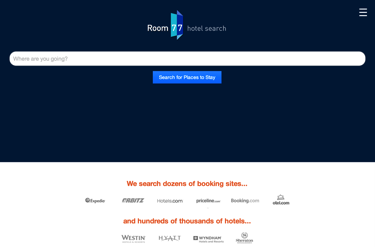 Well, this is something. Bloomberg reported yesterday that Google (essentially) bought Room 77's metasearch and booking technology. Key quote:
"With Room 77, Google can cater to travelers looking to quickly book hotels, the most lucrative part of online travel, while on the move."
Very, very interesting.
I've been telling clients and investors for the past few years that the biggest competitor to Expedia, Priceline, and TripAdvisor is none other than our good friend Google. The search giant's entry into metasearch with maps was its opening shot in an increasingly less cold war.
You see, metasearch isn't a product or category or business. It's a feature. Google can include metasearch results into its search engine results pages without blinking an eye and undermine all the work done by Kayak, Trivago, and TripAdvisor on building differentiated metasearch offerings (To be fair, though, Priceline, Expedia, and TripAdvsior can do the same by incorporating metasearch into their regular search results, too).
More important from a distribution strategy perspective is that search results are only one click away from booking. Google — or its vertical search/metasearch competition — could easily add booking capabilities to tie search and reservations together. In Google's case, though, its other, major revenue stream might prevent that. As the Bloomberg article notes:
"The deal also steps up [Google's] competition with Priceline Group Inc., which is one of Google's biggest customers in buying search ads." [Emphasis mine]
The key question for me, and for hospitality executives, is how Google plans to use its new toys. If Google wants to go toe-to-toe with those who buy its ads, we might witness a new "Cold War" between OTA's and Big G — and I'd expect that cold war to get even hotter if Google routed reservations directly to hotels, instead of to the OTA's.
Definitely interesting times for hotel marketers and distribution execs. Stay tuned to see where this leads.
If you're interested in learning even more about the future of e-commerce and marketing via the social, local, mobile web, register to receive a special report I've produced in conjunction with hotel marketing firm Vizergy, "Digital Hotel Marketing in a Multiscreen World." While it's targeted specifically at hotel and resort marketers, the lessons apply to just about any business. You can get your free copy of the report here.
You may also want to review the tips in my recent presentation Elements of E-commerce: How Digital Storytelling Drives Revenue and Results:
And you might also enjoy some of our past coverage of the social, local, mobile web and what it means for your business, including: