Should CEO's ban Facebook?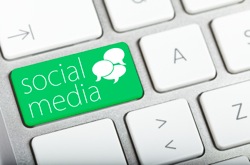 Mashable has a solid infographic explaining why CEO's should allow Facebook in the workplace [scroll down for the whole infographic].
My first reaction was, "Really? There are still CEO's who block Facebook?"
As a matter of fact, there are. According to Gartner, 50% of CEO's completely prohibit the use of social media at work.
Here are my questions:
Do those CEO's restrict mobile phones? Because anyone with a mobile phone (i.e., everyone), can easily get on Twitter or Facebook or Google+ or Tumblr anytime they want. And let's not forget texting. In fact, most employees are probably doing at least one of these right now.
Do they prohibit email? It's well established that busyness in email is as much a time suck as anything in the modern workplace. Why not limit that, too? Because, when used right, it's a critical business tool. Just like social media ought to be.
Do the CEO's prohibit the Internet as a whole or only "social media"? Of course, I put social media in quotes because the Internet is the world's largest social network. Stopping your employees from accessing "social" sites while allowing Internet access is a little like playing whack-a-mole, continually removing access to tools your employees have found useful.
Finally, do those CEO's prohibit employees from going to the bathroom? Because, after all, who knows how long your folks might be spending in there?
OK, the last one may seem ridiculous, but think about it for a second. You're not typically tracking every moment of your employees' day. Yes, some companies do. But it's not the norm.
So how are those companies ensuring productivity from their people? I'd suspect they're doing it by the same way good companies have ensured productivity for years: by measuring and managing results.
As I've mentioned before, social is people. And if your people are using Facebook to ease communication, maintain contact with customers or, yes, just taking a quick break to check in with their mom, it shouldn't matter so long as the results are there.
I'm not trying to start a holy war here. There are certainly areas where it's entirely appropriate to limit employees' access to activities that might distract them from the job at hand; train conductors, airline pilots and brain surgeons come immediately to mind. And people in front-line customer service shouldn't be sitting there texting their friends or posting status updates when there are customers to assist.
But if those folks don't know that, your problem isn't the social network, it's the employee.
Here's the full infographic:
---
Are you getting enough value out of your small business website? Want to make sure your business makes the most of the local, mobile, social web? thinks helps you understand how to grow your business via the web, every day. Get more than just news. Get understanding. Add thinks to your feed reader today.
And while you're at it, don't forget to follow Tim on Twitter.
Tim Peter & Associates helps companies from startups to the Fortune 500 use the web to reach more customers, more effectively every day. Take a look and see how we can help you.
Technorati Tags: Facebook, Google, Google Plus, Google+, Google+ Pages, social, social media, social strategy, Tumblr, twitter