Social media marketing is a good idea: Reason #324
OK. I don't know that there are exactly 324 reasons why social media marketing is a Very Good Thing, but I'm confident there are lots (Actually, I think I see another post on how many there are in my future). Long-time readers, however, will note that I don't talk about having a "web site." I talk about having a "web presence."
Because you can't just be one place on the web.
I particularly recommend thinking of your presence in terms of a hub and spoke model: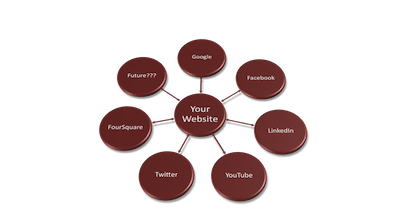 Former Myspace CEO Michael Jones explains one reason why:
"Single front door = single point of failure. Many large Internet businesses, such as Myspace and Yahoo, have a single "brand" front door, in that users have one point of entry into the site. Behind the door, users will find multiple product lines. Unfortunately, a single front door means there is a single point of failure in consumers' minds — even when the product lines behind it are robust."
Your website may be the hub, but the individual spokes, including social media, provide redundancy and alternative entry points to your brand for your customers. Robert Scoble made almost the exact same argument in a comment a few weeks ago. I agreed with him then. And I agree with him now.
Social media offers your customers multiple doors through which to find you. So, whether it's reason #324 or not, it's still a great reason why social media makes sense.
---
Are you getting enough value out of your small business website? Want to make sure your business makes the most of the local, mobile, social web? thinks helps you understand how to grow your business via the web, every day. Get more than just news. Get understanding. Add thinks to your feed reader today.
And while you're at it, don't forget to follow Tim on Twitter.
Tim Peter & Associates helps companies from startups to the Fortune 500 use the web to reach more customers, more effectively every day. Take a look and see how we can help you.
Technorati Tags: integrated marketing, internet marketing, marketing, marketing best practices, social, social commerce, social marketing, social media, social search, social strategy