The Big Myth About Hotel Metasearch (Travel Tuesday)
Want to drive more direct bookings to your hotel? Click here to learn more
---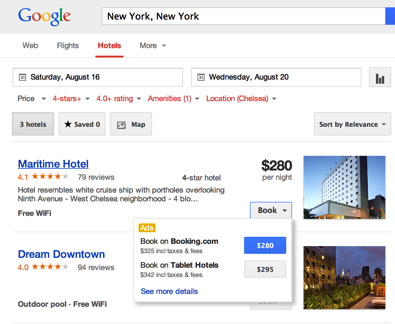 I know, I know. You're looking to hotel metasearch like TripAdvisor, Kayak, Google Hotel Finder or others to save your hotel from the rising costs of OTA's, right? Good. I think that's a good idea. But don't get caught up in the myth of what metasearch is. You see, metasearch and OTA's (and paid search, for that matter), are really all the same thing. And a group of OTA's just demonstrated why.
Orbitz, CheapTickets.com, and LastMinute.com have partnered with Intent Media to show price ads within the hotel search results on their sites. In other words, putting metasearch and traditional OTA results side-by-side. As Dennis Schaal of Skift notes:
"The distinctions between online travel agencies such as Expedia, Priceline and Orbitz, and travel metasearch sites such as Kayak, TripAdvisor and Hipmunk are getting really blurry."
As I've said before, metasearch and travel search are, really, the same thing:
"…metasearch isn't a product or category or business. It's a feature. Google can include metasearch results into its search engine results pages without blinking an eye and undermine all the work done by Kayak, Trivago, and TripAdvisor on building differentiated metasearch offerings (To be fair, though, Priceline, Expedia, and TripAdvsior can do the same by incorporating metasearch into their regular search results, too)."
Funny how Orbitz and its friends did just that.
Actually, the same is true for all search, not just metasearch. And, in fact, they're all distribution channels. Now, some people will try to tell you that metasearch isn't a distribution channel. With all due respect, anyone who tells you that simply hasn't been paying attention.
Metasearch exists to help guests find the "best" rate for a given stay. And any channel that offers guests the ability to find rates and availability is at its core, a distribution channel. Your job as a marketing and/or distribution executive is to get the best return from those channels as you possibly can. Yes, you may need to think about metasearch — or similar products such as Google's Hotel Price Ads (HPA) — slightly differently because they also include rates and require a degree of yield management. But you still must account for your return on spend the same way you would for an OTA or any other distribution channel.
In fact, the world is going to get more complex here, not less. we're going to see metasearch-type capabilities show up all across the web. As much as possible, you're going to want to understand how these tools work together to promote your brand and drive reservations.
For example, here's one (highly simplified) view of how you can compare multiple distribution channels and see how each contributes to your revenues: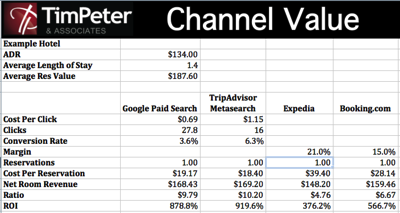 Want to learn how to do this channel analysis for your hotel?
Contact us
here
You'll note the inclusion of paid search and TripAdvisor metasearch right alongside Expedia or Booking.com. And the reason is straightforward: Ignoring the cost of distribution for any of these channels is a mistake. Whether you're looking to add more "heads in beds," "backs in racks," "feets in sheets," or simply, guests in your rooms every night, you shouldn't be willing to do that at any cost. The most successful hotel marketers and revenue managers increase their revenues and manage costs to achieve the greatest results.
My latests Hotel News Now column looks at 5 ways for you to minimize the costs of intermediaries. And that includes OTA's, search, and metasearch. All of 'em. And an effective distribution strategy recognizes that fact.
Ultimately, you're looking to manage metasearch the right way, drive down your distribution costs, and increase your revenues. The best way to do that? Don't buy-in to the myth.
Interested in learning even more about the future of e-commerce and marketing via the social, local, mobile web? Register to receive a special report I've produced in conjunction with hotel marketing firm Vizergy, "Digital Hotel Marketing in a Multiscreen World." You can get your free copy of the report here.
And, if you're curious about other trends shaping travel marketing, take a look at my recent presentation, called, aptly enough, "Digital Marketing Directions – Exploit the Trends that Shape Travel Marketing":
Finally, you might also enjoy some of our past coverage of the social, local, mobile web and what it means for your business, including: